David Winer didn't know his nephew Josh Hahn was gay when he hired him to work at Grillfish, the reliable West End restaurant specializing in seafood. At the time, Hahn had just moved to D.C. following college, and was living with Winer – Uncle David – until he found his own apartment.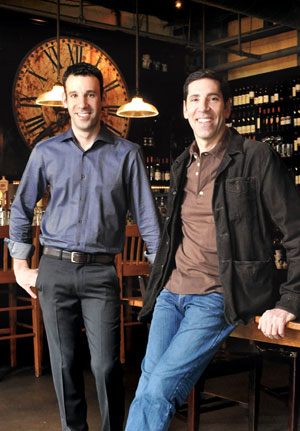 Josh Hahn and David Winer

(Photo by Todd Franson)
"I wanted to take him to some straight places so he'd meet some girls," is how Winer remembers it.
"He was badgering me to go out," recalls Hahn, "and I was just like, I didn't want to go through this whole thing. I said, 'I'm not as straight as you think I am."'
Winer, also gay, couldn't believe it. "Are you sure?"
"Of all the people I came out to," says Hahn, "nobody was as surprised as David."
Winer corroborates in a word: "Shocked!"
Nearly nine years later, Winer, 50, and Hahn, 30, are two of the three gay partners behind EatWellDC, the local restaurant chain of Logan Tavern, The Heights, Commissary and Grillfish. Winer says the chain is family-run by design.
"A lot of people hire their relatives because they have to, but I hired my relative because I wanted to," says Winer. He had also hired Josh's older brother Jeff to be a server at Grillfish years ago, before he went on to become a D.C. lawyer. "I wish there were three of them, because if there were," he says, "we'd probably have an empire today instead of just four restaurants."
Those four restaurants are generally considered focal points in their neighborhoods, having fostered a sense of community, of family, both literally and figuratively, among the staff.
"What we always strive [to create] is something that has a certain agelessness to it," explains Winer. "I'm not trying to be cutting-edge. I'm not trying to be the trendiest place. We really try to be a place that…looks like it's been there for a long time. [And a place] providing a good, consistent meal at a reasonable price."
EatWellDC recently started a quarterly charity program called GiveWell. In the past year, the company has helped raise money for the Trevor Project via the "It Gets Better" campaign, and for the fight against the rare autoimmune disorder myositis, similar to muscular dystrophy. ("I lost someone very near and dear to me from that disease," explains Winer.)
Focused on charitable giving that is "local and from the heart," GiveWell was inspired in large part by EatWellDC's long-standing participation in Food & Friends' annual Dining Out for Life fundraiser. All four locations donate 25 percent of both lunch and dinner proceeds for the event, set for next Thursday, March 10. They average about $10,000 per annum for the cause. This year, Hahn is serving as one of Dining Out for Life's co-chairs. (The other co-chair is Adam Roth, of Argia's restaurant in Falls Church.)
Both Winer and Hahn grew up in Newton, Mass., in a "very reform" Jewish family. Beyond going to temple for the High Holidays and being bar mitzvahed, faith "wasn't a huge part of our lives," says Hahn.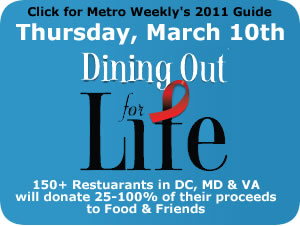 "When I was 9 years old," says Winer, "my parents sent me to Jewish summer camp. I was probably the most non-Jew in this camp. I could have been a Christian, for all I knew what was going on. It was culture shock for me."
The second youngest in a family of four, Winer was especially close to his only sister, Hahn's mom. In fact, Winer drafted her for support when he came out to his parents years ago while visiting from Miami, his home at the time.
Recalls Hahn: "I was probably 12 or 13 years old, and David had come up to Boston and was out to dinner with my mother – his sister – and their parents. And I was out to dinner with my brother and my father. I had no idea, but they apparently knew, because they were having a conversation about it matter-of-factly, basically saying, 'I wonder how they're going to react to David being gay."'
"They were so fine with it, so cool with it," Winer says of his parents. "The first question out of their mouths was, 'And what about your [younger] brother?' And I'm like, 'Yeah, he's gay too.' I outed him right there on the spot."
That younger brother, Mark, had wanted to come out years before, in fact, but Winer had begged him off. Of course, Mark, who lives in California, had inadvertently outed himself to Hahn's family years earlier.
"He was on a float at the gay pride parade in Los Angeles," says Winer, "and Josh's [older] brother Jeff was 12 years old or so. He sees Mark on CNN, on the float, in a bikini basically. 'Mom, look, there's Uncle Mark on the float!"'
The family remains close, even though they are distant in geographic terms – with Winer's mother now living in Del Ray Beach, Fla. Both Winer's and Hahn's mothers, among other family members, are investors in EatWellDC.
Winer actually "fell into" the restaurant business more than 25 years ago while in college in Boston. Prior to that, he had wanted to run his own nightclub – or be a standup comedian. But it was in Boston that he first teamed up with Tony Oquendo, the third partner in EatWellDC. The two soon moved to Miami to open a couple restaurants, including the first Grillfish.
Fifteen years ago, Winer made the move to D.C. to open another Grillfish and he never looked back. In 2002, Winer hatched his plans for a D.C.-based chain, and was putting together plans to open Logan Tavern when Hahn came along, fresh from Atlanta's Emory University and uncertain of his next move, but with years of experience in the restaurant and hospitality industry.
Winer has been the leader of the multi-restaurant chain from the get-go, with Oquendo more involved overseeing the chain's kitchens and Hahn taking care of the company's administrative aspects. These days Hahn is assuming more leadership duties as Winer focuses on growing the company.
By this time next year, EatWellDC plans to have a fifth restaurant, on 14th Street, "not too far from Logan Tavern," Winer shares. That restaurant should feature an ambiance similar to the other venues in the chain, but the menu will be different.
"Not so much the mainstream casual American," says Winer, "but a little bit more out there, a little bit more esoteric, and a little bit more back to nature." It will be tied into plans for a 13-plus-acres former tobacco farm that the company recently bought in southern Maryland.
"We would love to see it go from a non-operating, tail-end of an old farm, to a productive contributor to…our lives," Winer says. "That we're actually bringing produce and, eventually, maybe some livestock [from there] into the restaurants."
They will soon plant early spring vegetables in the space, and also plan to have active beehives by April. Winer says but for "a large pot of herbs on my terrace," he hasn't planted a garden since he was in high school. When asked if he has a green thumb, Hahn retorts, "The brief answer would be no." But he's game for trying his hand at farming. He's especially looking forward to organizing staff outings and retreats there.
"I'm a city person," Winer says. "I don't think I'll ever find myself living down there full time. But it's certainly pleasant to go down there a few times a week. It's a really picturesque property. There are ponds. There's a stream that runs through it. It's all surrounded by woods."
A sixth restaurant, possibly near Nationals Park in Southeast, is also under consideration. "We're very slow-growing and cautious and careful about what we do," says Winer. "But I think we would all like to have a sixth restaurant — as long as a fifth restaurant works out."
The existing restaurants, in the meantime, will continue as meeting grounds for their respective neighborhoods. Logan Tavern and Commissary still serve as the anchors of the Logan Circle neighborhood's bustling stretch of P Street. Columbia Heights is still sprouting up all around The Heights. And Grillfish, in the M Street area south of Dupont Circle, just underwent a "little sprucing up," including a makeover of its dining room. It will undergo a menu change later in the spring, once its new chef gets up and running.
A large part of EatWellDC's success derives from how it views – and presents – its staff.
"We go out of our way to treat everyone like family," says Winer. "And I think that's really been Josh's push in particular over the last couple years. I think our entire business approach has evolved from trying to take care of people and thinking about people, to actively taking care of people, and not just thinking about them but really doing for them. We try to do the right thing."
As just one example, Winer notes that, "long before it was popular, we were paying a living wage to every employee. [Even] the dishwashers start out at considerably above minimum wage."
Though high turnover is pretty much unavoidable in the restaurant business, Hahn notes that EatWellDC employees, even among the younger, college-age set, tend to stick with the company "for a lot longer than most people expect because they like working here."
Hahn says the prospect of having additional restaurants is especially appealing to their employees with greater aspirations. "Within the walls of a restaurant you can rise up to be a manager or a general manager. But without a larger company, we can't create all of the opportunities that we'd like to create for some of our key people, and be able to allow them to grow."
Out of 38 managers with the company, Hahn estimates that a third are gay, which are good odds for the community. "It's a pretty gay city, and a pretty gay industry," Winer observes.
And, of course, it's a pretty gay family. In fact, there just might be more to come. "We've got some cousins that are a little old to still be bachelors," teases Winer. "But we don't ask questions."
Commissary is located at 1443 P St. NW. Call 202-299-0018 or visit commissarydc.com. Grillfish is located at 1200 New Hampshire Ave. NW. Call 202-331-7310 or visit grillfishdc.com. Logan Tavern is located at 1423 P St. NW. Call 202-332-3710 or visit logantavern.com. The Heights is located at 3115 14th St. NW. Call 202-797-7227 or visit theheightsdc.com. For more information on EatWellDC, visit eatwelldc.com.