Jennifer Hudson has done it. She's managed to persevere through some of the most tragic personal experiences a human can face — chiefly, the murder of her mother, brother and nephew in late 2008. The fact that she can come out of that seemingly happier than ever is a feat all its own. If that's not an Oscar-winning dreamgirl, I don't know what is.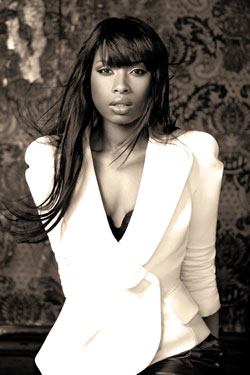 Jennifer Hudson
But a more immediate accomplishment is her new album, I Remember Me, which is every bit as happy and buoyant — even svelte — as she appears. It's not quite the pop album you may have hoped would one day come from Hudson, but it does suggest Hudson may still fulfill that dream. It's definitely a marked improvement from her lackluster 2008 self-titled debut.
That debut, Jennifer Hudson, suffered from a lack of direction, an all-over-the-map product of a budding, insecure artist who tried too hard to please everyone. I Remember Me also includes a few sappy ballads and a few stilted mid-tempo jams, plus occasions where Hudson effectively panders for applause, showing off just because she can, not because she should. Call it the American Idol curse, plaguing too much of pop music these days.
But the new set is most notable for living up to Hudson's goal of making a "feel good" album — including a jaunty cover of "Feeling Good," that pop standard almost ruined by too many low-rent American Idol renditions. Oh yes, the birds are flying high.
Hudson has tapped into her inner-disco diva on the set, offering us not one, not two, but three sweet disco jams, all co-written by Alicia Keys.
"Angel," for example, is obviously a song about Hudson's betrothed, David Otunga, Jr. "I was never looking around, trying to find someone that'd like to tie the knot," she sings in staccato. "There's no way that I'm, ever going back again. Heaven's in your arms, got me until the end."
Later comes the horn-happy disco ditty "Everybody Needs Love," destined to be something of a gay anthem, or at least a popular ditty in gay clubs — much like Whitney Houston's "Million Dollar Bill" before it. (Interestingly, Alicia Keys was the lead writer on that song, too.) "Wave your hands in the air, scream out, I need love," Hudson sings.
Love isn't always easy, of course. "Why is it so hard to love you?" Hudson asks on the track "Why Is It So Hard," embellished by hard snare drum snaps. Hudson doesn't wait for an answer, conceding, "this is the one time, I don't care about the easy way."
JENNIFER HUDSON
I Remember Me
Arista
$9.99



"Gone" is a hyper-dramatic pop number in the style of Ryan "One Republic" Tedder, although more sweet and powerful than most of his work. But the message of the song is a bit problematic. No one wants to lose the love of her life. Perhaps I'm quibbling too much, but after all Hudson's been through, you'd think she would have more self-resolve than to sing: "But it will probably kill me. Probably it will tear me down. Cuz I don't wanna think about it. My heart can't take it if you were gone." Given all that's happened to her, methinks her heart will go on. She proves it in every other way.
Ultimately, Hudson barely reflects on her past strife here, and the album is certainly better for it. If she had, we would have had to suffer through more selections such as Diane Warren's contribution "I'm Still Here." The less said or heard about it, the better.
Otherwise, the set doesn't wallow or slow down much. Instead, it moves and grooves — and aims to cheer up a listener.
"What if this life is all that we're given?" Hudson asks on the title track, answering: "We just can't stop living, scared of what we see. Cuz in this world, anything can hurt you. They push you, then forget you. Stole my history. But I remember me, I remember me."
Yes, we all remember you, J-Hud. With more output like this, we'll be remembering you for a long time to come.