On Sunday, April 3, at All Souls Church, Unitarian, City of Refuge-DC will celebrate its fourth anniversary. On the face of things, this doesn't seem to be a significant milestone, not in a city where the founding dates of some churches enjoy close proximity to the American Revolution.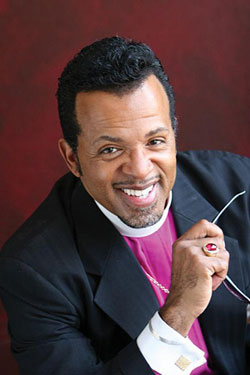 Bishop Carlton D. Pearson
(Photo by New Dimensions Worship Center)
But to the congregants and individuals served by City of Refuge, every day Refuge exists is a day worth celebrating. As stated boldly on their website, the "radically inclusive community of worshipers and workers [welcomes] all persons, regardless of race, color, ancestry, age, gender identity, health status or affectional/sexual orientation." All of which makes City of Refuge the kind of faith community that provides a space for even those individuals who have previously come to believe that the church – however that term was being defined – had no place for them.
Fitting then that Sunday's guest preacher will be Bishop Carlton D. Pearson. If the name isn't familiar, his story may be — Pearson was the subject of a December 2005 episode of public radio's This American Life. To put his complex and life-changing epiphany in the simplest form possible, Bishop Pearson stopped believing in hell.
At least, he stopped believing in the kind of hell his then-fellow evangelicals wanted and want us all to believe in.
"Hell is something we created in our own consciousness," says Pearson, "and we create it for ourselves and others. Anyone fundamentalists don't like they give them Hell … and they don't always wait for death." (It bears mention that Pearson does not limit that fundamentalism to any single faith or religion.)
But it wasn't just Pearson's rejection of the fire and brimstone, burning-for-all-eternity theatrics of hell that slowly decimated the more than 5,000 member church he had built before his revelation, nor was it that inspirational moment that took away the darling status he enjoyed in certain church circles, having served for 15 years on the Oral Roberts University Board of Regents and as associate evangelist for the Oral Roberts Evangelistic Association.
Pearson's new belief led him not simply to a rejection of hell, but to the kind of far-reaching acceptance, a "Gospel of Inclusion," that now brings him to preach at the Sunday anniversary service of a church whose ministry specifically states its desire to serve gay, lesbian, bisexual, transgender and questioning individuals.
"When I came out as accepting gay people, loving gay people, some reacted by saying I must be gay," says Pearson, whose own rejection from the church has provided him with a particular empathy for those members of the LGBT community whose personal relationships with faith communities have been painful.
Reflecting on how some evangelicals elected to see the AIDS crisis as proof of the will of a "monstrous God with an anger management problem," Pearson notes that AIDS was preached as a demonstration that "God not only disliked gay people, he hated them enough to give them AIDS, a horrible disease that would then kill them so they could be sucked down to hell. And some people internalized that. They internalized that hate and began to hate themselves because they believed God hated them. That erroneous predisposition tortures them and the only way to expose the errors being made is to confront the error. Not necessarily combat it, but confront it.
"It's been my experience," he adds, "that some of the people who are meanest, who are the most unforgiving, are some of the preachers who are actually standing up there and preaching to themselves. The only person you'll ever truly love, or not love, is yourself."
When Pearson speaks, peppering his conversation with bits of Scripture and the etymological roots of words in a way that betrays his scholarship, the "radical" missions of inclusion that he and City of Refuge share seem incredibly – perhaps frustratingly – obvious. On Sunday he hopes that, despite the hard times and difficulties, the LGBT community and others forced to the margins are still experiencing, City of Refuge's fourth anniversary will bring some joy.
"People should rejoice, because this is a good day and it is getting better."
City of Refuge–DC will celebrate its fourth anniversary at All Souls Church, Unitarian, 1500 Harvard St. NW, on Sunday, April 3, at 1 p.m. Visit refugedc.com.