You don't go to the theater for silence. It's not a place for meditation or prayer, after all — at least not if it's a good show. So it says something (in a manner of speaking) that director Aaron Posner has managed with The Chosen to pull off a good — borderline great — play in which silence plays an integral role. It's also notable that he does it with a play he personally adapted from a book by Chaim Potok — not always the best source for riveting theater. All those words tend to get in the way.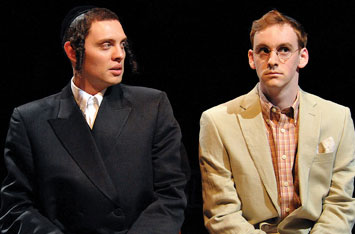 Chosen people: Morgan and Thompson
(Photo by Stan Barouh)
Posner achieves the feat by the sheer fact of The Chosen's staging in Arena's theater-in-the-round space. No one seat is too far from the centered action, and the eye has more to take in all around, keeping one's attention. Naturally, set designer James Kronzer deserves props for a pared-down, unobstructed approach.
Theater J first produced Posner's adaptation of The Chosen 10 years ago. It has revived it now, with Posner also on board as director, as the first local guest company-in-residence at Arena. Potok's book, first published in 1967, has become standard reading, especially among Jewish Americans. But its appeal — and its power — goes far beyond any one faith or culture. The struggle to balance traditional culture and a modern way of life, and of relating to others no matter how foreign they may seem, is something everyone can appreciate.
Set in the waning days of World War II, The Chosen focuses on two teenage boys, arch-enemies until one injures the other in a baseball accident. Slowly, they get to know each other while the victim, Reuven, recuperates in the hospital. They bond over mutual intellectual and spiritual questing, and the best-friend connection never really wavers as they become adults even when society — family, mainly — tries to intervene. Danny, played by Joshua Morgan, is a Hasidic Jew, expected to follow in the footsteps of his father (Rick Foucheux), an Orthodox rabbi, revered as a god by his followers. Reuven, meanwhile, has been raised a secular Jew even though his father (Ed Gero) is a Talmudic scholar.
The play pivots on the notion that "not everything or everyone is as it seems." So the more traditional-minded among the characters might not actually hold the most conservative views — and the more secular might not be the least religious, and so on. It's a subtle way of conveying the optimistic idea that each person you meet in life should be treated with respect and tolerance.
THE CHOSEN




To March 27
Arena Stage
1101 6th St. SW
$35-$60
800-494-8497
theaterj.org
All throughout The Chosen, Aaron Davidman serves as our guide, narrating the action as the adult Reuven, with a charming professorial nature helping keep us focused. It's hard to imagine the show working without a narrator — a reflection of its literary origins, perhaps — and without someone as flexible as Davidman, who also doubles as supporting characters as situations warrant.
Morgan and Thompson are superb in their roles as the two boys, hitting all the right emotional notes and expressing genuine chemistry. Foucheux, as Reb Saunders, is every bit as domineering as the role demands. He's enigmatic, exasperating, as with so many great leaders in real life. He's also affected a thick accent, reflecting the character's origins growing up in Russia. The accent is a bit thick, and Foucheux's intonation a bit deep, causing words to get lost in translation. But then words, while far from being beside the point, are at least less of a point than you'd expect them to be, in what after all is a serious, intellectually rigorous play.
The most powerful scene in The Chosen is when Saunders and his son embrace in a silent hug. They finally understand each other. Actions, as they say, speak louder than words. The Chosen certainly proves it.