On the one-year anniversary of the day marriage equality took effect for D.C. residents, Mayor Vince Gray had some words for members of Maryland's House of Delegates who will soon make a decision on a bill that would grant same-sex couples legal marriage recognition in Maryland.
"I hope that they will do what the District of Columbia has done and that is move forward to approve marriage equality," Gray said talking to Metro Weekly.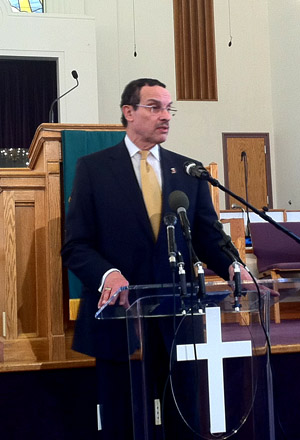 Gray
(Photo by Yusef Najafi)
"I think they will feel wonderful about it in the aftermath. I think it is the right thing to do and I think they will be very proud of themselves individually and their legislative body for having done this."
A Senate bill that would grant same-sex couples marriage rights passed the Maryland Senate with a 25-21 vote on Feb. 24. But the House version of the bill appears to be stuck in committee with no set date on a committee vote.
In the latest development of the marriage fight in Maryland, Del. Sam Arora (D-Montgomery County) has come under scrutiny from supporters and bloggers, including AMERICAblog, for stating that he would support the LGBT community during his candidacy, even seeking to be endorsed by Equality Maryland, but now stating that he's unsure how he will vote on the measure.
Arora has not returned calls to Metro Weekly seeking comment.
Reacting to the speed bumps in Maryland, Gray said D.C. also saw resistance in seeking marriage equality.
"But we were able to overcome that," Gray said, "I suspect it's some of the same situations being manifested there."
Gray's comments followed a press conference he held at Covenant Baptist United Church of Christ in Southwest on Thursday, March 3, celebrating the one year anniversary of the day in which marriage rights took affect for same-sex couples in D.C.
Addressing the crowd of about 40 supporters, Gray said there are people who refuse to talk to him because of his support of the marriage legislation in 2009-2010 when he served as D.C. City Council Chairman.
"As much as I wish it weren't so, I think I lost some friends in the course of this, there are some people who don't speak to me today because of my position," Gray said, adding, "but what's more important to me is doing the right thing."
Gray said he's hoping that neighboring states will view D.C. as role model for marriage equality, adding that he was proud to be a part of a city and council that "overwhelmingly" supported the measure. Gray thanked Councilmembers David Catania (I-At Large), who wrote the legislation, and Phil Mendelson (D-At Large) for their efforts.
Gray said with changes at the congressional level, D.C. has been "under assault" in how it spends money, adding that the city's needle-exchange programs and abortion services have been negatively impacted by such control.
"But I hope that there won't be an assault on marriage equality in the District of Columbia coming from the Congress. If there is, I think we ought to stand ready to stand up and that is to resist as much as we possibly can, this happening."
Joining Gray in speaking at the event, was D.C. Council Chairman Kwame Brown (D), whom Gray described as an "effective advocate and supporter" of the D.C. marriage legislation. Also joining Gray at the podium was Rev. Christine and Dennis Wiley.
"The sky has not fallen," Dennis Wiley said. "The sun has not stopped shining and the world has not come to an end. Despite all the earlier predictions of doom and gloom, if marriage equality became law in the District of Columbia, including the dire forecast that it would precipitate the demise of the family, I am glad to stand here today and celebrate the fact that none of this has come to pass and in fact to the contrary there are signs that just the opposite is taking place."
"The family structure is going stronger and more stable," Wiley added, "because this jurisdiction has had the courage to acknowledge that love and justice do not discriminate based on sexual orientation."
Gray echoed those sentiments, adding that he would like to see D.C. become its own state in the future.
"People thought that there would be a cataclysmic affect of having done what was done in this city on marriage equality, and there are those who make the same argument about this city becoming a state, of us having self-determination," Gray said.
"The question ultimately rests with the people of the city," he added. "And that is, what are we prepared to do in order to fight for our own future and our own freedom."
Others attending the event included Gray supporter Lane Hudson; Darlene Nipper, executive director of the National Gay and Lesbian Task Force; and Jeffrey Richardson, who serves as the mayor's liaison as the leader of the Office of GLBT Affairs.