Want a happy hour drink at a non-happy hour time of day? There's an app for that.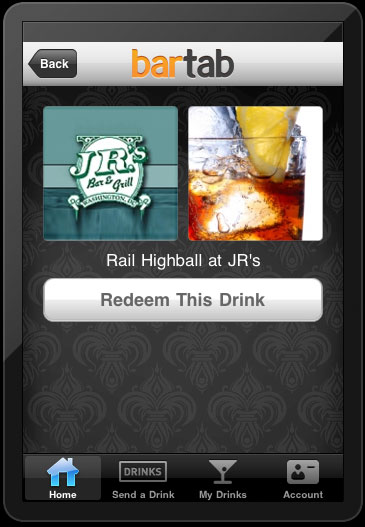 "BarTab is an app that allows users to send drinks to their friends through Facebook at participating bars," explains the app's D.C. representative Tommy Schmitz. Users of the free app can even send themselves a drink coupon, which costs $1 to send and $1 to redeem. That means you pay at most $2 for a basic drink, and you could buy a cheap round for friends.
"It's a great way to get people in, and it's a great way to give back to customers," says JR.'s Dave Perruzza. JR.'s was one of the first bars in D.C. to sign up with the app a few months ago. Other participating local bars include Cobalt, Level One, Logan Tavern and The Reef.
It's up to each bar to determine what drinks to offer for $1. JR.'s offers rail, draft and domestic bottles, while Cobalt and Level One both offer a "Captain Morgan Bite." Logan Tavern features a shot of its signature Stoly Doly pineapple-infused vodka.
The limit is one $1 drink per day at any given bar, and one $1 drink per hour at all participating BarTab venues — so BarTab barhopping is a definite possibility. Every time a drink is sent or redeemed, a notice is posted to Facebook, creating a measure of free advertising beyond a simple check-in through Facebook or Foursquare.
"All of these apps are like fads," says Perruzza. "But I think this one might stay because you can also send your friends drinks in California. You don't have to live in the same town. It's a really neat app."
Launched last summer, BarTab is currently in 15 different markets, with nearly 600 participating bars and 40,000 users. Schmitz says it's distinct from other social coupon sites such as Groupon or Living Social. "[BarTab] is more social gifting than group selling," he says. The idea is to gift a drink coupon to a friend to toast a promotion or a birthday. BarTab starts you off with a complimentary $10 tab, to which you can add later using a credit card.
BarTab's parent company, WebTab, based in San Francisco, has plans to expand the program to larger ticket items at restaurants, even retailers. "[The idea is that eventually] you can send your friend a pair of jeans or a steak dinner for his birthday," says Schmitz.
BarTab is currently available for the iPhone, or for any mobile Web browser. An Android app is coming soon. Visit bartab.webtab.com to download and for more information.