"It's just a ridiculous name for a group," chuckles Svein Berge, one-half of the Norwegian duo known as Röyksopp. "Let's call ourselves something that is hard to pronounce and harder to spell, and people won't even know what the hell it means.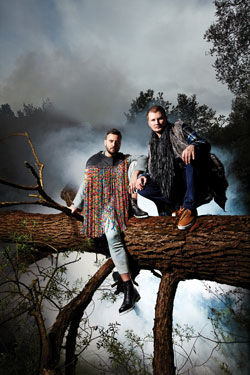 Royksopp
"We just found that utterly appealing."
Despite the linguistic difficulties, the name hasn't proven a hurdle for international attention. After wide critical acclaim with 2001's Melody A.M., Röyksopp has made several equally great albums, one more dance-floor ready than the next. The duo gained further attention lately for work with international superstar Robyn, who Berge now counts as a friend.
Berge and Röyksopp partner Torbjørn Brundtland have been friends since age 12. The two bonded almost immediately over a love for Kraftwerk and Depeche Mode and started releasing music under various guises in high school. But fame came later, with a Norwegian name. "Röyksopp" means either a specific type of mushroom or the mushroom-shaped cloud after a nuclear explosion. Or, if you prefer, "a really naive" drug reference, about smoking mushrooms.
"[But] anyone who's a drug fiend knows that is not really the way to consume a mushroom," the 35-year-old Berge jokes.
Apart from regular guest vocalists, Röyksopp distinguishes itself from other electronic acts by handling some of the vocal duties in-house. "Making music to us is a matter of experimenting, and entertaining ourselves," says Berge. "At some point we tried singing just for the heck of it, to see whether it's something that we enjoy."
The band also enjoys wearing costumes in concert. "[Wearing] different costumes is just a good way for us to perform our music, like putting on a character," says Berge, adding, "it's not like a flamboyant, kind-of Elton John fashion that we're doing here. It's just something to create an atmosphere."
Röyksopp performs Wednesday, March 23, at the Nightclub 9:30, 815 V St. NW. . Doors at 9 p.m. The show is sold out, but you can enter to win a pair of tickets at metroweekly.com/win.