The message popped up on the Gay Men's Chorus of Washington, DC's (GMCW) Facebook page early on Thursday morning, just about a week before the March 18 opening of their production of The Best Little Whorehouse in Texas.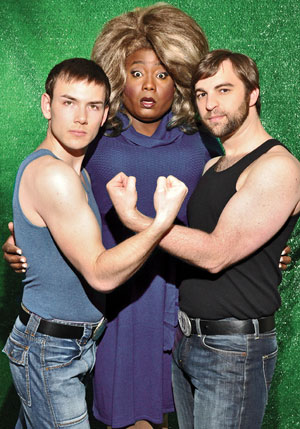 Gay Men's Chorus of Washington
(Photo by Todd Franson)
"Dear GMC, My wife Carlin Glynn and I want send you best wishes for a great show! … Break a leg! – Peter Masterson."
To put it in proper perspective, Masterson is the co-writer of Best Little Whorehouse (with Larry L. King) and, along with dance legend Tommy Tune, co-directed the original Broadway production. His wife made her Broadway debut as the whorehouse's madame, Miss Mona, winning a Tony Award for her performance.
Apparently, Masterson and Glynn aren't the only members of that original Broadway Chicken Ranch who are excited. According to GMCW Executive Director David Jobin, "I know that some of the creators of the show will be in the audience. When you're doing a show that is held in such esteem as Best Little Whorehouse, that's kind of unheard of.
"I mean, I don't know that Stephen Sondheim is checking out regional productions of his musicals."
So what is it about the GMCW's decision to tackle Best Little Whorehouse – the third production of the chorus's 30th anniversary season – that's attracting such attention? True, GMCW has earned well-deserved praise for their attention to detail and brilliant showmanship, producing shows that, as Jobin notes, demonstrate the chorus's desire to not simply be a group that "stands and sings at you."
Then there's the timing of the show. Ryan Williams, who plays Miss Mona – the only character who will be performed in drag, says he spent time looking at the story surrounding the actual Chicken Ranch, the La Grange, Texas, brothel that operated in relative peace and quiet till it was transformed by the media into an easy political target.
"Gas prices were high. Politicians were embroiled in scandals," Williams says of the 1970s era that brought the brothel to an end. "Protestors were using the Bible to back up their opinions and views. Folks on television were exploiting this new medium of trash talking. You could be talking about today. Of course, the difference is that today you don't need Miss Mona – you have Craig's List."
Director and choreographer Craig Cipollini agrees with the timelessness (whether that's fortunate or not) of Best Little Whorehouse.
"We can draw parallels to the scandals in the show to the scandals we see in real life: People who are pointing fingers at other people and are then caught doing it themselves," Cipollini says. "I think that's one of the things that's great about this show. It satirizes the hypocrisy we have in this country regarding politics and media and sex. As gay men we're used to having someone say we're immoral or depraved or deviant, so I think that we, as a community, can relate to that message in The Best Little Whorehouse.
"The other thing is that Miss Mona creates this sense of home," he continues. "One of the characters in the show says that the Chicken Ranch 'is the closest thing I've had to a home since the OK Corral Trailer Park.' So, many gay people look at the community as a second home. I hope that resonates with our audience."
It's a message that, paired with GMCW's high standards, already seems to be resonating, both with the chorus's supporters and with the folks charged with keeping an eye on the musical property that is Best Little Whorehouse.
"We haven't had any issues with staging this musical as an all-male production," says Jobin. "I think part of the reason is that we worked with Samuel French [the publishing house whose titles include such shows as Chicago and La Cage aux Folles, as well as Best Little Whorehouse] on Grease and they came and saw the incredible integrity with which we treated the piece. Their representative came to me after the show and said, 'Whatever you want to do next year, let's talk."'
Jobin continues, "I have a background in theater and [last season] when I heard we were doing Grease I really wasn't sure. As a gay man I never felt a connection with that show. But then I watched it performed as a love story between two men. I think that viewing shows through this lens – performed by an all-male chorus – can open up a piece. It certainly happens with Best Little Whorehouse."
"The GLBT community is always seen as an easy punching bag," says Williams. "But there are so many great individuals and organizations, like the GMCW, who are shining a light on the positive things.
"Ultimately, thanks to those people," he concludes, grabbing a lyric from one of Best Little Whorehouse's best-known songs, "we are going to be just fine."
The Gay Men's Chorus of Washington DC, performs The Best Little Whorehouse in Texas on Friday and Saturday, March 18 and 19 at 8 p.m. and Sunday, March 20 at 3 p.m. at the George Washington University's Lisner Auditorium, 730 21st St. NW. Tickets are $30-$50. Call 202-293-1548 or visit gmcw.org.