"I don't think I have ever seen a politician's Facebook page with not one defender."
Those were the words of well-known lesbian activist Hilary Rosen to Maryland Del. Sam Arora (D-Montgomery), who in the past week has insinuated he would go back on his 2010 campaign promise to support marriage legislation for same-sex couples, by voting against a bill that would grant same-sex couples marriage rights while protecting the freedoms of religious institutions in Maryland.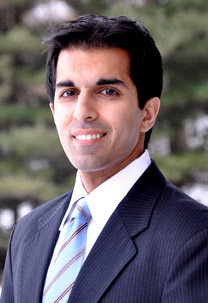 Arora
"Knowing who you are, and being able to authentically share it with the public, is everything in a successful political career, Sam," Rosen added, in her comments left on Arora's Facebook page.
"You have lost your credibility before you even cast a vote. I think your career is over. It seems a shame that you've given it up in the name of prejudice. One thing I know for sure is that the movement for equality will recover before your self esteem does."
Rosen was just one of many angered by Arora's change of heart on House Bill 175, a bill that he co-sponsored. The lead sponsor of the bill is Del. Kumar Barve (D-Montgomery), the first person to endorse Arora in his 2010 election. Many, including Chevy Chase mayor David Lublin, who is gay and serves on Equality Maryland's board of directors, were infuriated when Barve confirmed that Arora had told him he would vote against the marriage bill on the House floor.
Then in a turn of events on March 4, Arora posted a statement on his official web site regarding his vote.
"As the vote drew nearer, I wrestled with this issue in a way I never had before, which led me to realize that I had some concerns about the bill. While I personally believe that Maryland should extend civil rights to same-sex couples through civil unions, I have come to the conclusion that this issue has such impact on the people of Maryland that they should have a direct say," said the statement.
"I will vote to send the bill to the floor because it deserves an up-or-down vote," he adds. "On the floor, I will vote to send the bill to the governor so that Marylanders can ultimately decide this issue at the polls. I think that is appropriate."
Reacting to the latest development, Lublin says he is "pleased" that Arora will vote on the floor, regardless of Arora's hope that it will be put to referendum, because Lublin says Maryland's referendum procedure is "restrictive."
"I don't think we know that it's going to be on the ballot yet," Lublin says.
"I think ultimately the reason we elect legislators is to make decisions and in Maryland we don't have any easy referendum procedures, not like California where anything can get on the ballot. It's more restrictive, and so it will be a powerful statement if the people in Maryland through their elected representatives would enact marriage equality."
According to Maryland's State Board of Elections, opponents of the marriage bill can start collecting signatures for a statewide referendum immediately after the passage of the bill in the House of Delegates, before Gov. Martin O'Malley (D) signs the bill. A total of 55,736 signatures are required on the petition and must be submitted to Secretary of State John P. McDonough (D) by June 30. One third of those signatures are due on May 31.
Arora's position on the marriage legislation impacts those beyond Maryland.
In D.C., local gay activist Lane Hudson remains unpleased with Arora's statement, adding that he feels betrayed, perplexed and angry.
"While Sam's statement is disappointing because it still backtracks his well-documented support for marriage equality, it also lacks an explanation for this change in position and that is incredibly important for his friends and supporters to hear."
According to Hudson Arora is a former resident of D.C., and many of the supporters who were instrumental in helping him with his campaign for the Maryland legislature were residents of Washington.
"Many of the people he knew then were critical in validating his nascent campaign, including many LGBT friends," Hudson wrote in an e-mail to Metro Weekly. "Extending the marriage victory into [Maryland] is also incredibly important because of the diminished prospect of winning on the Federal level in the near future."
Arora has not returned calls or e-mails to Metro Weekly seeking comment.