Elizabeth Taylor was across the ocean, consoling Michael Jackson in Europe in 1993 just days before the Whitman-Walker Clinic ceremony dedicating its facility at 1701 14th St., NW to her by naming it after her.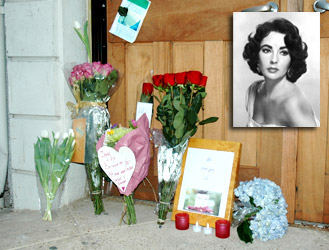 Flowers left for Taylor in front of the Elizabeth Taylor Center
(Photo courtesy of the Whitman-Walker Clinic)
Still, she boarded a plane and arrived in Washington for the ceremony on Nov. 19, 1993.
"She flew from London to 14th and R and then became very engaged with us for two days at the clinic," says D.C. Councilmember Jim Graham (D-Ward 1), who was Whitman-Walker Clinic's executive director at the time.
"She met with our patients and clients, and people living with AIDS, and a really spectacular show of interest considering how much effort," Graham says. "A lot of people would have said, 'Look my dear friend is in trouble, I'm in a Paris, I just can't make it, I'll make it up to you,' but she didn't do that."
Graham first approached Taylor with the idea of dedicating Whitman-Walker Clinic's building in her name, during a three-hour meeting with her at her home in Los Angeles.
"I broached the idea with her, and her response was pretty immediate actually," he says. "I had been with her on various occasions during her visits to Washington and I had actually spent three hours with her in her living room in Los Angeles … and that's when it was originally broached."
Taylor ended up donating $50,000 to the clinic and also made visits to the patients at the Curtis White House – a house that used to be run by Whitman-Walker that was named after as Graham called him, a "drag impresario," while she was in Washington.
David Chalfant, who was also working at the clinic during the 1993 ceremony, said Taylor's dedication to the HIV/AIDS effort went beyond the financial – and at a time when things were drastically different for those battling HIV and AIDS.
"It was challenging," he says.
"I lost a lot of friends," Chalfant says. "When I began, there was no cocktail or one-a-day pill and every couple of weeks, someone who were at the clinic was passing away."
Back then, Chalfant says it was difficult to get people to talk openly about caring for the cause. Having someone as prominent as Taylor speaking out for the cause helped greatly.
"You could not sometimes even call volunteers at work for fear that they would be outed at work although they were incredibly supportive of HIV and AIDS care and research they still were dealing with a very complicated social structure."
Chalfant lauds Taylor for standing up and giving voice to the fight against the spread of HIV at a time when others were silent.
"It created a sea change in the way people in Washington, across the country and around the world looked at HIV and AIDS," he says. "For her to step out and do that very famous commercial where she holds up a condom and says, 'This is the one way we know to help prevent the spread of HIV and AIDS — before our sitting president [Reagan] even said the words 'HIV' and 'AIDS' in public was quite a statement."
She was, he says, the first of what became many celebrities to join the cause.
"I think the face of HIV and AIDS has changed within this country and globally," he says. "There are many celebrities who have lent their name, from Angelina Jolie to Lady Gaga, and Annie Lennox, a number of Broadway performers, but no one had the iconic position and the American spirit and heart that Elizabeth Taylor had. No one stood up the way she did when everyone else was still silent."
Whitman-Walker Clinic CEO Don Blanchon recognized Taylor's contributions in a statement released on March 23, when it was announced that Taylor had died in Los Angeles at the age of 79.
"At a time when most Americans thought of HIV/AIDS as something that didn't affect them, her commitment to the issue and considerable star power helped to take the fight against HIV/AIDS right into the mainstream of American society," Blanchon said in the statement.
"Her dedication to raising money along with awareness has helped to save countless lives both by helping to treat people living with the virus and by preventing new infections."