"It's just like me to overstay my welcome," Michael Stipe sings near the top of R.E.M.'s new album Collapse Into Now. Later, the queer artist sings about regret, about wanting to retrace his steps. "Walk it back," he says repeatedly on a ballad bearing the same title.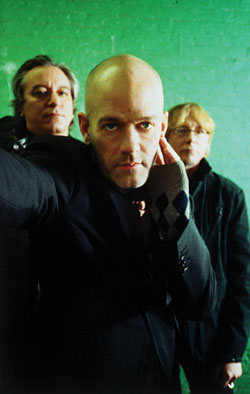 Religion, found: Stipe and co.
And in effect, that's exactly what the once-great alternative-rock band from Athens, Ga., has done with Collapse Into Now. It's walked back its forgettable output over the past 15 years, including its last two albums intended as comebacks that instead suggested the band had actually overstayed its welcome. Collapse Into Now is strong enough to make you reconsider the band. It doesn't quite match the achievements of 1983's breakthrough Murmur or 1992's pinnacle Automatic for the People, to name just two high-water marks. But any one-time fan of the band can now happily return to the fold. And any rock-loving newcomer can finally get a sense of what all the earlier R.E.M. fuss was about.
"Let's sing it and rhyme. Let's give it one more time," Stipe sings on the irresistible hard-charging rocker "All The Best," on which he also proves the lie about overstaying his welcome. "Let's show the kids how to do it fine, fine, fine, fine."
Along with U2, R.E.M. helped set the standard for a sweeter, more cerebral style of rock. Peter Buck's chime-y guitars, Mike Mills's dominating bass, Bill Berry's driving drums, and the often-serious, mysterious murmurings of Stipe — all of it added up to inspiring music both edgy and smooth, smart and a little silly, cutting-edge yet accessible.
Reportedly, the band has always functioned as a true team, in which every member contributes to songwriting. That's probably a major reason R.E.M. has struggled ever since Berry left in 1997. Now just a trio, with Bill Rieflin supporting on percussion, it's taken a while for the band to find its rhythm.
For Collapse Into Now, the band reunited with producer Garret "Jacknife" Lee. Lee produced the band's last lackluster set, 2008's Accelerate, which was too aggressive and urgent, leaving a listener little desire to think or linger. The new set benefits from being a more wide-ranging affair, including several strong pensive, forlorn rock ballads. Even the jangling, rollicking barnstormers here are more thoughtful and seem less tossed-off than on Accelerate.
Which doesn't mean they make sense, of course.
As the band's lyricist, Stipe still traffics in the indecipherable even when you're able to make lyrics out from all his mumbling. "I'm in a part of your dreams that you don't even understand," Stipe sings, aptly summing up the situation for many, on "All The Best."
The lyrics contain cryptic pop-culture references to everything from Quasimodo to New Order to Sharon Stone to Marlon Brando. But at least Stipe offers a self-deprecating sense of humor about it. On "It Happened Today," after he rhymes "parable" with "terrible," Stipe sasses back, "Yes, I will rhyme that. After, after all I've done today, I have earned my wings."
R.E.M.

Collapse Into Now
Warner Bros.
$9.99




The appeal of Collapse Into Now is capped off by its notable guest vocalists. Stipe's punk mentor Patti Smith harmonizes on the dizzying album opener "Discoverer," and then she cries out the key refrains of the experimental track "Blue," as Stipe swirls around her offering earnest, abstruse spoken-word poetry. "This is my time and I am thrilled to be alive," he says. "Living, blessed, I understand 20th Century, collapse into now." Smith lightens the mood, calling him "Cinderella boy," and telling him, "You've lost your shoe."
Pearl Jam's Eddie Vedder contributes vocals on "It Happened Today," along with Joel Gibb of the "gay church folk" group The Hidden Cameras.
Perhaps most surprising is the collaboration with Peaches. The fierce, filthy-minded electro-punk rapper is as sweet as can be, singing the nonsensical "Alligator, Aviator, Autopilot, Antimatter." "I feel like an alligator, climbing up the escalator," Stipe sings as Peaches repeats the key words in response. If you didn't know better, you might mistake Peaches for long-ago R.E.M. collaborator — and fellow Athens native — Kate Pierson of the B-52's. ("Shiny Happy People," indeed.)
The heart of the set is "Oh My Heart," an ode to New Orleans. "It's sweet and it's sad and it's true, how it doesn't look bitter on you," Stipe says of the Crescent City, still recovering from Hurricane Katrina. Stipe gives a particularly wrenching, tremulous vocal performance on this waltz-like song, deserving of a Grammy, if not an Oscar.
And if New Orleans can bounce back from despair, well, why not R.E.M.?