Composer Ricky Ian Gordon's brief relationship with the late Jeffrey Grossi in the mid-'90s provided, if not a lifetime, then at least a few years' worth of material.
"The moment I met him it was as if I'd always known him," says Gordon.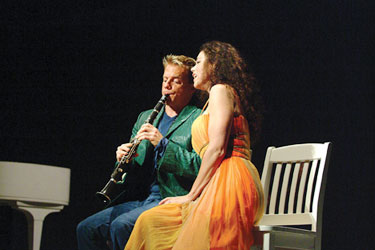 Futral and Palmer
Virginia's Artisphere will stage two operas Gordon penned about his four-year relationship as part of UrbanArias' inaugural Festival of Contemporary Opera.
In recreating the Greek classic Orpheus and Eurydice, Gordon essentially wrote about his relationship with Grossi, who died from AIDS-related complications in 1996. "Instead of being bitten by a snake," says Gordon, "Eurydice is robbed incrementally from Orpheus by a mysterious virus."
Shortly after Grossi passed away, Gordon wrote a poem that would become the basis for Green Sneakers, a mini-opera about a pair of shoes Gordon had bought for Grossi to wear to a premiere of another Gordon opera, also inspired by their relationship — except that Grossi ended up too sick to attend.'
Both short operas will be staged individually as well as for a double bill Sunday, April 3, at 2 p.m. Opera star Elizabeth Futral, clarinetist Todd Palmer and pianist Melvin Chen all revise roles that helped Orpheus and Eurydice win an OBIE Award when it was first staged in New York in 2005. Green Sneakers, with baritone Ian Greenlaw and the Adelphi String Quartet, is only now gaining recognition, says the 54-year-old Gordon, who's known for his work in musical theater, including last year's Signature Theatre world premiere Sycamore Trees.
There are 15 performances in the festival, which is focused on short, contemporary opera — under 90 minutes in length and written within the past 35 years. Robert Wood created the festival to "embrace a wonderful repertoire that I think is under-performed. It also gives a nod to the zeitgeist. The American attention span is not lengthening."'
The UrbanArias festival runs through April 10 at Artisphere, 1101 Wilson Blvd., Arlington. Tickets are $22 per show. Call 703-875-1100 or visit artisphere.com.