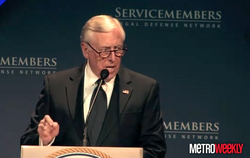 At the Servicemembers Legal Defense Network (SLDN) National Dinner on Saturday, March 19, 2011, House Minority Whip Steny Hoyer (D-Md.) was presented with the Anna Curren Award for his leadership in helping to pass the Don't Ask, Don't Tell Repeal Act in the 111th Congress. He spoke, not of himself, but of the leadership of former Rep. Patrick Murphy (D-Pa.) and LGBT servicemembers past, present and future.
In notable part, he said:
As with every civil rights movement, we all benefit in another way: By reclaiming our history, by winning the right to tell our country's story more honestly and more fully.
It's time to learn from the stories of the gay Americans who served and sacrificed for us — not always openly, but always bravely.
Some of those stories are recent history: Eric Alva, Purple Heart winner and the first American wounded in Iraq. Thank you, Eric. Margarethe Cammermeyer, for whom I campaigned for Congress. Thank you, Margarethe. Paula Neira, who introduced me — a nurse, a lawyer, a Navy combat veteran, who has stood up against discrimination.
Every one of them is a living testemant to service and patriotism
Mike Almy, an Air Force major — kicked out — testified before the Senate. Captain Anthony Woods of West Point, two tours in Iraq. Zoe Dunning. So many other names I could mention. Thank you all for the courage you showed and are showing to this very day.
Ladies and gentleman, we also know that the stories stretch much further back. As President Obama said, there is no doubt that gay Americans have fought and died in every one of our wars since America's founding. …
For every one of those men and women who served in silence, the repeal of DADT is about them, too.
Now it's time to write a new generation of stories. They will be written by young men and women like the young man who wrote me last fall. They will serve openly, and proudly. They will benefit our country and our principles. They will be leaders in the civil rights movement of our time. They will endure sacrifice and separation from their loved ones so that the rest of us don't have to. Some of them will die, will die for their country so that the rest of us don't have to.
Let's recognize their service and every American's service for the precious gift it is. Let us give every American's service the honor it deserves.
Watch:
Also, check out the speeches from Rep. Barney Frank (D-Mass.) and SLDN executive director Aubrey Sarvis, also available at Metro Weekly.