Although the U.S. Supreme Court today noted that "Westboro [Baptist Church]'s choice of where and when to conduct its picketing is not beyond the Government's regulatory reach," the court concluded that the picket by the anti-gay church led by Fred Phelps outside Iraq war veteran Matthew Snyder's funeral could not be prohibited directly or punished indirectly through a lawsuit seeking legal damages, as was done here.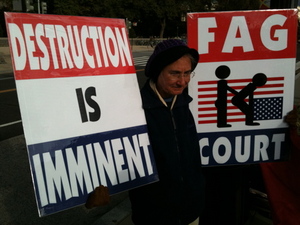 As Chief Justice John Roberts wrote for eight of the court's nine members, "Simply put, the church members had the right to be where they were."
Marine Lance Corporal Snyder was killed in Iraq, and his father, Albert Snyder, sued for the church's protest at his son's funeral. As Roberts wrote of the protest, "The picket signs reflected the church's view that the United States is overly tolerant of sin and that God kills American soldiers as punishment." Among the signs used by the church's members at the funeral protest were: "Thank God for IEDs," "Thank God for Dead Soldiers" and "God Hates Fags."
Matthew's father took his case to the Supreme Court in October 2010, asking the justices to overturn the decision of the U.S. Court of Appeals for the Fourth Circuit holding that the First Amendment prevents Snyder from bringing a lawsuit for intentional infliction of emotional distress against the WBC for protesting outside his son's funeral.
With Justice Samuel Alito as the sole voice of dissent, Roberts declared for the court in Snyder v. Phelps, "The record confirms that any distress occasioned by Westboro's picketing turned on the content and viewpoint of the message conveyed, rather than any interference with the funeral itself."
The chief justice went on to write, "Given that Westboro's speech was at a public place on a matter of public concern, that speech is entitled to 'special protection' under the First Amendment. Such speech cannot be restricted simply because it is upsetting or arouses contempt."
Roberts explained, "The jury here was instructed that it could hold Westboro liable for intentional infliction of emotional distress based on a finding that Westboro's picketing was 'outrageous.' 'Outrageousness,' however, is a highly malleable standard with 'an inherent subjectiveness about it which would allow a jury to impose liability on the basis of the jurors' tastes or views, or perhaps on the basis of their dislike of a particular expression,'" referencing the Supreme Court case involving Jerry Falwell's unsuccessful lawsuit against Hustler magazine.
Roberts concluded, "What Westboro said, in the whole context of how and where it chose to say it, is entitled to 'special protection' under the First Amendment, and that protection cannot be overcome by a jury finding that the picketing was outrageous."
The chief justice concluded similarly as to other claims at issue in the case, state law torts of intrusion upon seclusion and civil conspiracy.
Summing up his opinion — and view of American free speech — Roberts wrote, "Speech is powerful. It can stir people to action, move them to tears of both joy and sorrow, and — as it did here — inflict great pain. On the facts before us, we cannot react to that pain by punishing the speaker. As a Nation we have chosen a different course — to protect even hurtful speech on public issues to ensure that we do not stifle public debate. That choice requires that we shield Westboro from tort liability for its picketing in this case."
Alito's dissenting opinion started off with a rebuke to that very point, with the justice writing, "Our profound national commitment to free and open debate is not a license for the vicious verbal assault that occurred in this case."
Read the case: 09-751.pdf
[Photo: A member of the Westboro Baptist Church protested outside the U.S. Supreme Court in October 2010. (Photo by Chris Geidner.)]