In keeping with the nature of his business, Gus Elfving calls himself the "Principal and Pack Leader" of Pet Peeps, a company he founded in 2006.
"We help people take care of their pets when they're not able," Elfving says. Washingtonian readers have twice voted Pet Peeps one of the best pet-sitting and dog-walking services in the area.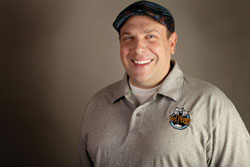 Gus Elfving of Pet Peeps
(Photo by Courtesy Gus Elfving)
But despite his success, Elfving had no business education, business background or even a business plan when he started Pet Peeps. "I'm an accidental entrepreneur," he laughs. "Any advice I'd give is probably the opposite of what most people will tell you to do — just go for it."
While he may joke about accidental success, his hard work and determination have paid off with a thriving business in the highly competitive pet care services industry, where there are few barriers to entry.
"Anyone with a license and a leash can start a dog-walking business," Elfving explains. "That increased with the downturn in the market."
He had a leg up, having established his niche and a good client base before the recession hit: "I paid attention to the market, and I made my business different." He was also an early adopter of new media and other technology. This proved key in word-of-mouth marketing and differentiating himself.
As a result, Elfving saw his business grow rapidly once he got through the tough first two years. Pet Peeps now has about 25 people on staff and serves the entire city. Elfving spends most of his time managing the business, rather than personally caring for all the pets. "I miss the interaction with my charges, but my business is too large for me to do that and manage everything."
Being involved with CAGLCC proved beneficial for Pet Peeps.
"It gave me a sense of community, a group of peers who were all looking out for each other's mutual welfare. It was a bit like an incubator," Elfving says. "Even though it's tougher than ever to start and grow a business these days, it still can be done."
Women's Wednesdays
In 21 years, CAGLCC has hosted hundreds of business networking events. Best known for our monthly Networking Thursday (NT) — cancelled only once, during 2010's record-breaking snowstorms — we recognize the need and desire for other networking opportunities for the LGBT business community. Women's Wednesdays is quickly becoming one of our most well-attended events, geared toward women entrepreneurs and professionals.
These events help establish new relationships, develop others and renew contact with female leaders in the LGBT business community. Attendees also share knowledge on issues specifically related to businesswomen and hear from business owners who contribute their success stories to the mix. Most importantly, perhaps, is the opportunity to partake in the strength, energy and drive of females in the LGBT workforce.
Women's Wednesdays are held the third Wednesday of every other month, so mark your calendar for March 16. "We are excited to have Lynne Brown of The Washington Blade host our next Women's Wednesday networking event," says Eboné Bell of BOI Marketing and Promotions and co-chair of CAGLCC's Women and Diversity Committee. "Lynne has been a pioneer and voice for the LGBT community at large, but also the women's community."
Join CAGLCC at the offices of The Washington Blade at 1712 14th St. NW, from 6:30 to 8:30 p.m. CAGLCC Members attend for free. Non-members may prepay for $15 or pay $20 at the door. Register at http://www.caglcc.org/marchwomenswednesday. Gentlemen are welcome to attend.
CAGLCC Member News
Mansour Abu-Rahmeh, Hounshell Real Estate, brokered the deal and sold the highest-priced condominium sale in January 2011 in the District of Columbia. Congratulations, Mansour! For more information, visit dccondoboutique.com/blog/2011-02.
CAGLCC means Business. Go to caglcc.org for more news from the source of all things LGBT business.