When David Lowman says he has performed as Reba McEntire, he's not just being an over-the-top drag queen.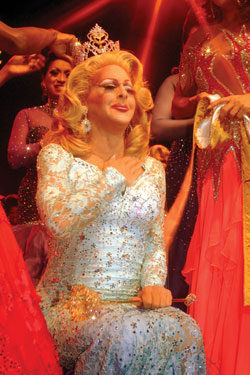 Coti Collins being crowned Miss Gay America 2011
"I actually toured with Reba McEntire for two years, in her concert," says Lowman, who works as a female illusionist under the name Coti Collins. Lowman acted as McEntire's surrogate, lip-synching onstage while the country star made quick costume changes. "It was kind of a magical illusion. I was never revealed" — other than being listed in the credits. McEntire had personally hired Collins for the work after catching an illusion show in Nashville.
"I live a fairy-tale life," says Lowman. Last year, Lowman (as Collins) won the title of Miss Gay America, the longest-running drag pageant in the country, going on 40 years. It was the fulfillment of a 25-year-old dream, and came after decades of trying. Lowman even placed first runner-up two years in a row.
The 46-year-old Ohio native, who now lives in Raleigh, N.C., finally cinched the competitive national title while serving as Miss Gay DC America 2010. "I've been most everything in the region," says Lowman, referring to his many other regional titles. He finally won in part thanks to Cocker Productions' Robert York, the D.C. pageant's "incredible promoter."
"He helped me set my focus on what I really needed to focus on — my weak category, the onstage question," says Lowman. York pumped him with questions via text message every day. The result? "I aced [the question section] at nationals."
This weekend, Lowman relinquishes his crown as Miss Gay DC America with a pageant at Town. In addition to the winner representing D.C. at the national pageant in October, contestants compete for more than $6,000 in cash and prizes.
Before he steps down, Lowman will offer a couple performances, including a revue at Ziegfeld's on Friday night, March 18, in which he'll impersonate Cher, maybe Pink, and, of course, McEntire.
Asked if he's ever performed as Lady Gaga, Lowman says not yet. "The makeup is so severe. Once you do Gaga, you have to do her all night long."
The Miss Gay DC America regional pageant is Saturday, March 19, at 6:45 p.m. at Town Danceboutique, 2009 8th NW. Cover is $10. The Miss Gay DC America revue is Friday, March 18, at 11:30 p.m. Ziegfeld's Nightclub, 1824 Half St. SW. Visit MissGayDCAmerica.com for more information.