Every year, the Capital Area Gay and Lesbian Chamber of Commerce (CAGLCC) celebrates by recognizing LGBT individuals who have made a difference, directly or indirectly, in business.
"The Chamber created the awards dinner to showcase the achievement and impact of Lesbian, Gay, Bisexual and Transgender businesses in our region," says Mark Guenther, executive director of CAGLCC. "Each year, the Chamber recognizes outstanding individuals and organizations that have contributed to the economic, social and cultural fabric of the LGBT community in the metro D.C. area."
Not only do the awards recognize exemplary business success, they recognize people who have been strong leaders within the LGBT community based on charitable contributions, advocacy and awareness – as well as being openly LGBT at their organization or creating a supportive environment for LGBT employees at their workplace.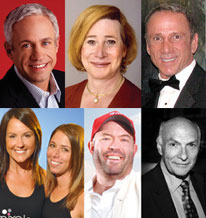 Glen Ackerman; Dana Beyer; Randy Griffin; Meghann Novinskie and Kim Rosenberg; Brent Minor; and Michael Kahn
(Photo by Photos courtesy CAGLCC and Metro Weekly)
"As the local experts for LGBT business, it was our responsibility to acknowledge these heroes," says Guenther.
CAGLCC asked this year's award recipients to share the significance of being awarded the honor.
Glen Ackerman, Ackerman Legal PLLC, Business Leadership Award: "I am honored to accept the Business Leadership Award on my behalf and my colleagues because it is in recognition of the firm's commitment to equality. Ackerman Legal is known within the LGBT community as the go-to law firm for LGBT related matters and respected by the legal community for producing a high quality work product."
Dana Beyer, M.D., Community Advocacy Award: "I am honored to be recognized by a group that has made me a part of the family. CAGLCC stands out in its openness and willingness to welcome everyone who shares the values of equality. Not tolerate, not even accept, but welcome with open arms. To paraphrase Lord Palmerston, in politics there are no permanent friends, nor permanent enemies, only permanent interests, though I don't believe even that is the case. The closest one gets to permanence in this world is family, and I'm honored to be part of this family."
Randy Griffin and Marriott International, Corporate Ally of the Year Award: "Receiving this award signals that Marriott is being recognized for all the great work we have dedicated to building our comprehensive LGBT strategy. This is truly an honor."
Michael Kahn, Artistic Director, The Shakespeare Theatre Company, Excellence in Business Award: "I'm very honored to receive this award and extremely pleased that, as the artistic director of a theater, the arts are recognized as a significant economic engine for the city that we love."
Brent Minor, Team DC, Volunteer Of The Year Award: "This award recognizes the importance of being involved in your community not just for what it provides to an organization, but for what it gives to each person who volunteers."
Meghann Novinskie and Kim Rosenberg, Mixology DC, Emerging Entrepreneur Award: "We feel lucky to work in an industry that I love. Being so well received by the LGBT community has been incredibly inspirational. But being recognized by CAGLCC this year as an emerging entrepreneur is an achievement that we are extremely proud of and will continue to celebrate as our career develops in the upcoming years."
CAGLCC's' Annual Awards Dinner, "A Salute to Business Excellence," will take place on Friday, April 8, at the Park Hyatt Washington. For more information, visit caglcc.org.