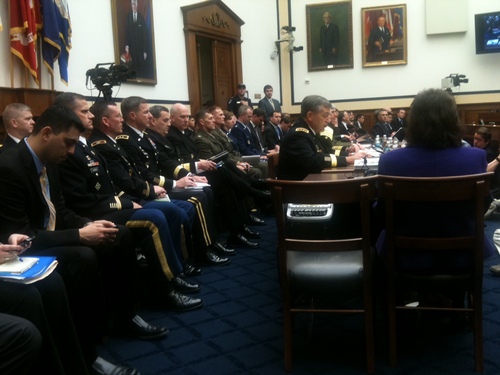 [Photo: Gen. Peter Chairelli, vice chief of staff of the Army, testifies before the House Armed Services Committee on Thursday, April 7, 2011. (Photo by Chris Geidner.)]
Following a little less than an hour of testimony and questions, the House Armed Services Committee Chairman Buck McKeon (R-Calif.) adjourned his committee's hearing into the implementation of the Don't Ask, Don't Tell Repeal Act so that members could proceed to a number of floor votes, leaving the service chiefs called to testify waiting in an anteroom.
The service chiefs, who had presented Congress with concerns about and even some opposition to repeal of DADT during testimony over the course of 2010, presented a far more optimistic outlook today.
Gen. Peter Chairelli, vice chief of staff of the Army, said of the training being implemented by the Army, "the process works." Chairelli said that Army commanders expressed "no issues" with repeal implementation just last week, but he maintained — as Army chief of staff Gen. George Casey earlier testified — that there is "moderate risk" to repeal.
Gen. James Amos, commandant of the Marines Corps testified, "The Marine Corps is working diligently" to implement repeal. He also noted, "There's not been pushback … or anxiety from the forces in the field." He said 41 percent of Marines have been trained and expect training to be complete by June 1.
Air Force chief of staff, Gen. Norton Schwartz, says Air Force training will be done on June 30. He maintained that there is moderate risk, adding, "but … we are mitigating the risk in the way we are approaching it." He also said that he is more confident today than he was on Dec. 22 that repeal implementation will be successful.
Finally, Navy chief of operations Adm. Gary Roughead said, "Our sailors will continue to serve" with honor after DADT repeal is implemented. He added that "I'm very comfortable; I was very comfortable in December …"
The most notable exchange in the first hour came when Rep. Todd Akin (R-Mo.) asked whether the loss of the DADT law would prevent the military dealing with inappropriate behavior from out gay, lesbian or bisexual servicemembers.
Roughead responded, "The fact that someone is gay or lesbian doesn't really enter into a disruption to the mission," adding, "The same standards — the same regulations and standards of conduct will apply …. It's not as if we're having to create new policies."
Servicemembers Legal Defense Network executive director Aubrey Sarvis issued a statement at the break, saying, "We are within hours of a government shutdown which is going to have adverse and unintended consequences on our fighting men and women in uniform. And yet, repeal opponents felt the need this afternoon to spend precious time on how to prevent gays and lesbians from serving openly and honestly in our military.
"Mind you, we are talking about gay and lesbian service members already in Iraq and Afghanistan who could well give their lives or limbs for this country," he said. "I am compelled to ask: Have they no shame, no sense of priorities?"
[CORRECTION: The exchange that Rep. Akin had was with Adm. Roughead, not Schwartz.]