Hours after the Maryland Senate killed the Gender Identity Anti-Discrimination Act, House Bill 235, Sen. Richard Madaleno (D-Montgomery), the only out LGBT member of the Maryland Senate, provided an email statement to Metro Weekly regarding his plan to file similar legislation for 2012.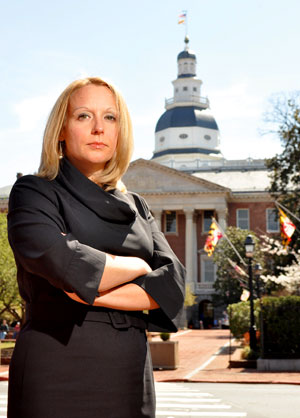 Morgan Meneses-Sheets
(Photo by Todd Franson)
"Before next session, I will pre-file a new version of the Gender Identity Antidiscrimination Act that includes provisions for housing and employment, as well as public accommodations in the hope it can receive a full debate and vote in the Senate before the last day of the session," he stated.
Like many of the supporters of H.B. 235, Madaleno said he was disappointed by the Senate's action on Monday, April 11, during the final day of the legislative session, to send the bill back to the Judicial Proceedings Committee with a 27-20 vote.
The vote happened during the bill's second reading, minutes after introduction by Sen. Jamie Raskin (D-Montgomery). Sen. James DeGrange (D-Anne Arundel), who was expected to vote against the measure, asked for the bill to be recommitted to committee.
Immediately following the vote, Morgan Meneses-Sheets, executive director of Equality Maryland, said the organization was "shocked and appalled" by the Senate's action because seven of the senators who had committed to supporting H.B. 235 voted in favor of killing it in the 2011 session.
On April 12, talking to Metro Weekly, Meneses-Sheets said she blamed the fate of the bill on process.
"There's been a lot of talk that we didn't have the votes, and that's just not true," she says. "The question was whether or not those legislators were going to see their commitments through."
According to Meneses-Sheets more than 24 had pledged to their constituents and Equality Maryland that they would support the measure.
"In the end I really think they got caught up in some of the last-minute sort of political games of the legislative session, which is really unfortunate since this was a bill that would literally save people's lives and make their lives better," she said. "It's sort of unfortunate that it got dragged down not because of a lack of votes, but because of some of the messiness of the law-making process."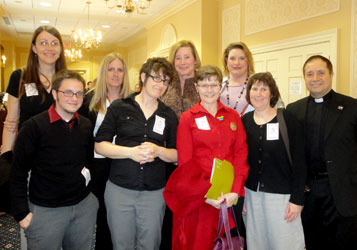 Supporters of H.B. 235
(Photo by Yusef Najafi)
Speaking with Metro Weekly on April 12, local transgender advocate Dr. Dana Beyer said she suspects, after talking to delegates, senators and others involved in the legislative process, that Senate President Thomas "Mike" Miller (D-Calvert, Prince George's) killed H.B. 235 because House Speaker Michael Busch (D-Anne Arundel) didn't secure House commitments on Senate Bill 116, the Civil Marriage Protection Act, which died on March 11 when it was sent back to committee.
"I can't confirm this because I don't speak to the Senate president and I don't know many people who can have that conversation with him and really get to the truth either," Beyer said. "But the consensus was that he was simply very upset with House Speaker Busch for not getting the delegates on the record taking a vote on marriage.
"Now, Miller didn't want the [marriage] bill to pass. We knew he didn't support marriage," she continued. "But he said this is your one shot, and if you do this I will get it through the Senate. He was very, very upset at the time – and apparently still as of yesterday – that the House didn't do that. He decided to take it out on the rest of the LGBT community [by killing H.B. 235]."
While Miller's office did not return a request for comment before Metro Weekly deadline, Meneses-Sheets says, "It's not what I've heard."
"Here's the bottom line," she adds. "We may all have our different theories as to why this happened, but it's much more complicated than a simple answer. It's the timing, the fact that it was the last day, the fact that there were a lot of political games being played in the final hour, the fact that the legislative process is messy, and simply that it's complicated."
The vote to send the gender-identity antidiscrimination bill back to committee – and into the 2012 session – came just days after supporters of the legislation cheered its successful and surprising passage in the Senate's Judicial Proceedings Committee on April 9, with a 7-4 vote.
Committee passage included one amendment, offered by Sen. Brian Frosh (D-Montgomery), which changed the wording of the bill to remove "appearance, expression or behavior" from the list of protections, and instead added "the manifestation of that identity in gender-related appearance, characteristics and mannerisms." The amendment also stated gender identity must be "persistent" and "bona fide."
Beyer says that language modification will be beneficial next year when a new gender identity antidiscrimination act is introduced.
"The one value we got out of this is we have language now that we know Frosh likes and we will use this in the future to get it out of his committee again," she said.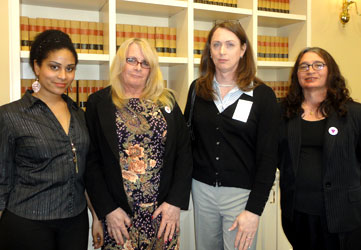 Members of Trans United and Trans Maryland
(Photo by Yusef Najafi)
Opponents of the legislation included members of the LGBT community, including the organizations Trans Maryland and Trans United, who argued that the bill was inadequate because it provided some, not all, protections by leaving out "public accommodations," and that it would be difficult to amend the legislation later if it were to pass.
In a statement sent to Metro Weekly on April 12, Jenna Fischetti, media director of Trans Maryland, said that while her organization opposed passing a bill that neglected public accommodations, Trans Maryland wasn't necessarily cheering recent events.
"Today is not a day to celebrate, for it is still one more year without the critical and necessary public accommodations protections for transgender Marylanders and those transgender individuals merely visiting our state.
"Today is a day to remember that every November 20 we hold a vigil, a Day of Remembrance Service for those we lost due to violence because they are transgender or transsexual. That with H.B 235 or without it, the list will grow longer until full protections are in place. It must be the stated goal of every transgender person in Maryland and any like minded ally, in or out of our state, transgender or not, to see the day that we stop adding to that list."
Ashley Love, a national transsexual, transgender and intersex advocate, said she believes most members of the transgender community are pleased with the bill being sent back to committee.
"Without public accommodations protections included, the message is: We are second-class citizens submitting to fear mongering of 'bathroom hysteria' advocates, and that gays [through] Equality Maryland can make decisions for transsexual and transgender people without community buy-in," she said. "However, we'll accept nothing less than a fully comprehensive bill."
In the year to come, Meneses-Sheets said she is hoping Equality Maryland can ally with Trans Maryland and Trans United in working for transgender equality.
"We will be reaching out to Trans Maryland and Trans United and we will certainly be endeavoring to build a strong partnership," she said. "Equality Maryland has been working on this for a long time and we will continue to work on this, but we do hope that we will work in partnership with them."
Beyer also said that Equality Maryland is not to blame, pointing out that H.B. 235 started as a comprehensive bill, inclusive of public accommodations.
"The only reason this bill turned out like this [without public accommodations] is because the chair of the House committee told [Del.] Joseline Pena-Melnyk (D-Anne Arundel, Prince George's) that she had to change it, she had to strip it," Beyer said. "It's unfair to blame anybody for that, other than the Democrats in that committee. Equality Maryland had nothing to do with that decision. That was a House leadership position and that means there's a lot of work to be done.
"I hope that the trans community that's decided to get politically engaged doesn't just go home and decide to come back again next year by which time it will be too late. They need to get ready to start lobbying people and educating people in the next month or two. If they don't do that, we won't be any farther along on public accommodations than we are now."