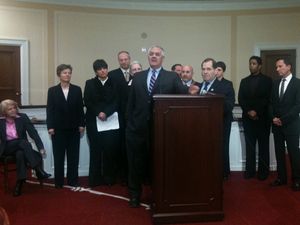 On Monday, April 4, the lead sponsors of the Respect for Marriage Act — the bill to repeal the Defense of Marriage Act — asked Speaker John Boehner (R-Ohio) for a briefing on any House defense of DOMA.
On March 9, the Bipartisan Legal Advisory Committee — on a party-line 3-2 vote — passed a resolution that called on the House counsel to defend the constitutionality of DOMA in court following the Obama administration's Feb. 23 decision that it would no longer defend DOMA in court.
Although Minority Leader Rep. Nancy Pelosi (D-Calif.) has asked for information about that defense, the letter from Reps. Jerrold Nadler (D-N.Y.), Barney Frank (D-Mass.), Tammy Baldwin (D-Wisc.), Jared Polis (D-Colo.), David Cicilline (D-R.I.) and John Conyers (D-Mich.) asks for an update on steps taken or that have been planned to be taken in that defense, as well as asking that Boehner "brief all interested Members" on those decisions.
In part, they ask:
Among other things, we are interested in a status report on who will be representing the House, estimates regarding the cost and length of proposed litigation efforts, the anticipated role of the House in litigation (i.e., intervenor or amicus curiae), and your assessment regarding the likelihood of success on the merits. If you or House General Counsel already have arranged for representation by outside counsel, we would welcome and appreciate their participation in this briefing.
The particular prompt for this letter is an upcoming April 18 deadline in the Windsor v. United States case challenging Section 3 of DOMA in federal court in New York.
Read the letter: BLAG Letter – 040411.pdf
[Photo: Reps. Barney Frank (D-Mass.) and Jerrold Nadler (D-N.Y.) take questions at a news conference introducing the Respect for Marriage Act. (Photo by Chris Geidner.)]