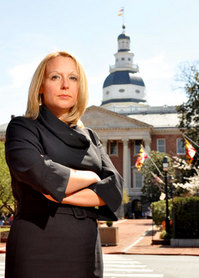 Shortly after Morgan Meneses-Sheets released a statement announcing her departure from Equality Maryland and that it was not her choice to leave, the organization's director of development Matt Thorn released a statement announcing that Meneses-Sheets was fired after a closed board meeting and that he is now leaving the organization in protest.
Today, it is with great sadness that I resign as Director of Development of Equality Maryland. Over the past few months, I have given tireless energy to see the success of the organization and it has been made apparent in these last few days that the organization, lead by the Board of Directors wishes to see the organization to move in a different direction.

Gay, Lesbian, Bisexual, and Transgender Marylanders have found a true champion in Morgan Meneses-Sheets. Not only has she committed time and energy away from her wife and her five month old daughter, but she had the tenacity to keep fighting in Annapolis, even when all others had given up. Giving up just isn't in her vocabulary.

This past Sunday, the Board of Directors of Equality Maryland, in executive session voted to remove her from her position, essentially telling the organization's staff, volunteers, supporters, funders, and general community that the organization will now move in a different direction.

I fear that the direction that the board seeks to take is one that will not be a beneficial path for the community, for the organization, for the staff, and especially the organization's funders, and that is why, effective today, I am resigning from my position as Director of Development of Equality Maryland. I wish nothing but the best to the staff and the community and hope that we can overcome these obstacles to continue to fight for our full equality.
[Photo by Todd Franson]