A board member has resigned from Equality Maryland in protest, following a day in which the executive director, Morgan Meneses-Sheets, announced that she had been fired from the organization, a staff member resigned in protest and the board chair told Metro Weekly that Meneses-Sheets made the decision herself by announcing her departure.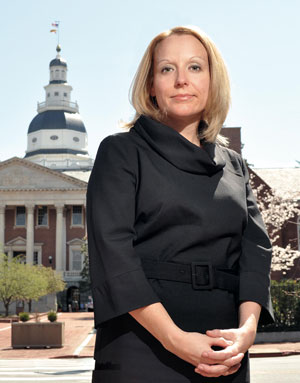 Meneses-Sheets
(Photo by Todd Franson)
Talking with Metro Weekly this evening, Meneses-Sheets says, "[Board member] Lisa Polyak called me on Tuesday to discuss my firing. [Board president] Chuck Butler and [Equality Maryland Foundation Board vice chair] Patrick Wojahn scheduled a call with me for Tuesday night where they told me the board voted to terminate me and 'go in a different direction.'"
Butler, however, disputed that characterization, saying that the board sought a change in direction but that they were "in discussion" with Meneses-Sheets.
"Anything was possible," he says.
Equality Maryland board member David Lublin, who is also the mayor of Chevy Chase, concurred with Butler, telling Metro Weekly, "Morgan was not fired."
"She quit earlier today," he adds referring to the statement issued by Meneses-Sheets on Friday afternoon, April 22, announcing her departure.
Lublin says Equality Maryland's six-member board was "negotiating" Meneses-Sheet's departure. Her announcement, he says, came as a surprise to them.
"We were negotiating her departure and she up and quit today," he says. "We were hoping to arrange a mutual time table. We all decided it was time to move on and that this is a good time to do so with the session being over. We wish her all the best, but it's time for a change."
In the statement, Meneses-Sheet's said that she is proud of how far the organization was able to advance marriage equality legislation during the 2011 legislative session, getting it past the Senate floor, and to the House floor where it was killed. Similarly, Equality Maryland was able to move a gender-identity anti-discrimination act through the House and on to the Senate where it was ultimately shelved until next year.
It was also because neither of those bills made it out of the Maryland General Assembly that Meneses-Sheet's leadership came under scrutiny this year.
"It is with a heavy heart that I share that today will be my last day as the Executive Director of Equality Maryland. While it is not my choice to leave, it is my choice to make my voice heard as I exit," Meneses-Sheets says. "I've spent the last 18 months at the helm of Equality Maryland and this time has held some of the most rewarding moments of my career, but it has also been extremely difficult.
"In particular the past few months have been tough to bear. Not because of the hard work which I welcome and felt honored to be part of, but because of the forces within the organization and external politics that created additional and unnecessary obstacles to our forward movement and success."
Lublin, though, says it's ordinary for organizations to change leadership, telling Metro Weekly, "I don't think at the end of the day it's that big of a drama. Organizations like ours change directors in the non-profit world fairly frequently so it's not a bolt from the blue exactly."
But news of Meneses-Sheets's departure was enough to fuel the organization's director of development Matt Thorn to quit in protest. Thorn released a statement announcing that he is leaving the organization in response to the decision to "remove" Meneses-Sheets after a closed board meeting on Sunday, April 17.
"Not only has she committed time and energy away from her wife and her five-month-old daughter, but she had the tenacity to keep fighting in Annapolis, even when all others had given up," he said. "Giving up just isn't in her vocabulary.
"I fear that the direction that the board seeks to take is one that will not be a beneficial path for the community, for the organization, for the staff, and especially the organization's funders, and that is why, effective today, I am resigning from my position as Director of Development of Equality Maryland."
Alex Hickcox, a board member of Equality Maryland, also announced his resignation today, telling Metro Weekly, "I did officially resign today. I'm unhappy with the decision to dismiss Morgan [Meneses-Sheets] as our executive director."
Hickcox, who is transgender, said firing Meneses-Sheets was discussed at a Sunday board meeting, and Equality Maryland's board voted to allow the executive board to vote on the matter behind closed doors.
"I abstained from the vote because I felt nervous and a little intimidated. I feel like an outsider with the board. Based on the reasons that they were giving for how they felt that she should be let go, I hadn't had that personal experience with her, I had a very good experience with her, so rather than voting no, I abstained. I wish I had voted no, though."
Hickcox tells Metro Weekly that no board members voted no, but also adds, "It's hard for me to say what exactly their reasons are because I feel like they were never really articulated. The impression I had from some on the board, is that they felt like they didn't have a good working relationship with her. Their reasons weren't particularly articulate."
In fact, Meneses-Sheets tells Metro Weekly, "I wanted to stay, to continue to build on our good work. This was not my choice. It is disappointing that they are trying to disparage me even as I look to move on."
Lublin, though, says, "Morgan has her perspective no doubt, but our perspective is no doubt going to be different as is often the case but I think the important thing is just that we move on and continue to fight for LGBT rights, which is I know something Morgan agrees with and feels passionately about."
News of Meneses-Sheet's exit comes a few weeks after she told Metro Weekly she has no plans of leaving the organization before marriage legislation and gender identity protections are signed into Maryland law.
When asked by Metro Weekly on April 4, 2011, if she would be present for the 2012 legislative session, Meneses-Sheets said, "Yes, I will definitely be here."
Asked about the organization's plans for the future, Butler says, "Obviously the organization remains committed to the LGBT community and accomplishing our goals that are leftover from the last legislation session."
Butler says that Equality Maryland's board already has someone in mind to take over as interim executive director, though he would not disclose who that is.
"Hopefully we should have an announcement soon on an interim leader for the organization, we're still in the process of getting that together but it's looking pretty positive for us on that front."