The three characters in Gustavo Ott's Divorcees, Evangelists and Vegetarians, now at GALA Theatre, are not played by drag queens, though it's easy to imagine such a thing. In fact, previous productions of the hysterical play, in Venezuela and Paraguay, have featured all-male casts donning drag.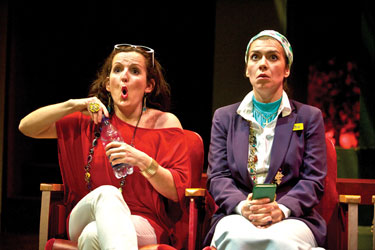 Divorcees, Evangelists and Vegetarians
(Photo by Lonnie Tague)
Ultimately, it's just as well that GALA has hired three gifted local actresses to bring to life Ott's play. Drag might have masked over the show's message, especially to women, to love oneself.
Divorcees originally appeared onstage in Ott's native Venezuela a year after the 1988 Spanish film Women On The Verge of A Nervous Breakdown. You can't help but notice similarities between the two plays — and anyone who loved Pedro Almodóvar's black comedy will be amused here as well. But Ott's play isn't quite as loopy, and its feminist undertones are more gratifying.
The play, which GALA first staged in 2003, focuses on three strangers who quickly become close friends. Beatriz (Monalisa Arias) is an impressionable divorcee on the brink of suicide, Gloria (Menchu Esteban) is a self-absorbed, high-strung "vegetarian" dynamo having an affair with a married man, and Meche (Gabriela Fernández-Coffey) is a widowed fundamentalist struggling with religion and repressed passions. By show's end, all three have become reformed for the better.
The jokes come a mile a minute in Divorcees. If you don't speak Spanish, you'll likely miss some of the humor — the play is performed in Spanish — as the English titles fly by on the screens above the stage. But GALA's production, ably guided by director Abel López, is a treat even if you have to watch the monitors. All three actresses add zest to their characters. Fernández-Coffey is especially marvelous as she segues from being an uptight schoolmarm to speaking in tongues and catching the spirit to finally becoming a normal, sentient, questioning woman. Altogether, the ensemble is wholly convincing. You're just sure these three women are now best friends in real life, too.
Daniel Pinha, working with lighting designer Jason Cowperthwaite and sound designer Brendan Vierra, makes smart choices with stage design. The play moves from a noisy, barren subway station underground to a darkened movie theater with plush seats to finally a bright, expansive park at day break. In other words, the play ascends as it goes, mirroring the characters' emotional uplift, from despair to freedom.
The delightful Divorcees offers a fascinating glimpse at how malleable people are, and how complete strangers can influence behavior — in this case, mostly for good. These three women help each other express themselves — to just feel something — and develop a sense of self-worth for seemingly the first time in their lives.
TWO BROTHERS and an innocent stranger are held hostage by a despotic father in Enda Walsh's The Walworth Farce — and the audience doesn't escape easily, either.
At a recent performance, the audience at Studio Theatre jumped to its feet and clapped vigorously for the actors at curtain call, a display that seemed to me as much out of relief that the sinister show was finally over as it was to reward the powerful acting.'
And that acting certainly deserves rewarding. As Dinny, the father, Ted van Griethuysen may be the most tyrannical man you've ever seen onstage. Van Griethuhsen's evil portrayal is nearly as squirm-inducing as Heath Ledger's Joker in The Dark Knight. There is no love lost on Aubrey Deeker's portrayal of cross-dressing, bullying eldest son Blake, either. Instead, all of your sympathies lie with Sean, the younger, wiser, put-upon son, played with courage and resolve by Alex Morf, and especially Hayley, played by the winsome Azania Dungee, the visitor to the family flat who's all sweetness and light.
DIVORCEES, EVANGELISTS AND VEGETARIANS




To May 1
GALA Theatre at Tivoli Square
$20-$36
202-234-7174
galatheatre.org
THE WALWORTH FARCE




To May 1
Studio Theatre
$44-$65
202-332-3300
studiotheatre.org
Yet all the acting might in the world — or assured directing, here by Irishman Matt Torney — can't compel you to care about a script that doesn't leave you with any significant takeaway other than that it's easier to be cruel than to be kind, and that the past can too easily stunt the future. If this is truly the "New Ireland," as Studio is billing its current mini-festival of Enda Walsh plays, I do worry about that future.
Dinny makes his shut-in sons spend all day, every day, reenacting key moments in the family's life before they fled Ireland for London. The three don wigs, toupees, dresses and coats to play various deceased family members, most notably the boys' mother and an aunt and uncle. Dinny is only too happy to punish his boys if they stumble in their portrayal of a character.
As the threat of violence ratchets up in the play, the reenactments reach a fever pitch. As it goes on and on with no end in sight, you end up giving up caring about what's going to happen, because you just know nothing good will come of it. When the play finally reachs a mostly satisfying climax, it ultimately comes too late.
With this level of torture, all you want to do is flee and never look back.