It may not have been a courtroom, but one sunny afternoon in October 2009, a generic D.C. Board of Elections and Ethics hearing room was full of drama. At center stage was the proposed Marriage Initiative of 2009, which would've asked D.C. residents to vote on the definition of marriage – indirectly making it a vote on whether or not gays could marry in the District.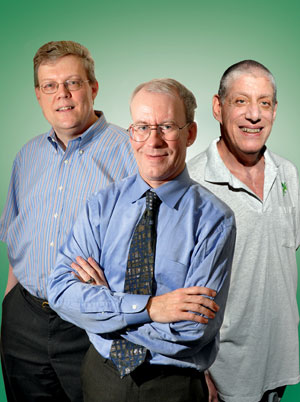 GLAA
(Photo by Todd Franson)
Cleta Mitchell, the attorney representing Stand4MarriageDC, a group affiliated with the National Organization for Marriage, was going full-speed with her arguments in favor of the initiative that afternoon.
But there was a big bump, the D.C. Human Rights Act. She was trying to get around it, arguing that the protections in the Human Rights Act could not trump the D.C. Charter's allowances on initiatives.
"That is a preposterous view of the Human Rights Act and its application," she argued passionately.
Had it not been for the Gay and Lesbian Activists Alliance of Washington, D.C., it might not have been such a problem for Mitchell and her anti-marriage peers.
Take, for example, one tiny item on the GLAA's posted chronology: "1979: In response to Anita Bryant-sponsored anti-gay referenda in other cities, the DC Council bans initiatives and referenda which could restrict the DC Human Rights Law."
Certainly, the issue of voting on civil rights was part of that marriage debate. And GLAA was key in blocking such a vote 30 years ago.
"We had asked for that in the [City Council/mayoral] campaign in 1978," says Richard Rosendall, the club's vice president for political affairs, and a past GLAA president. "That then laid the groundwork. That is an example of how you never know when something you do will bear fruit."
The club's current president, Mitch Wood, would agree. He recalls his interest in the nonpartisan cadre of LGBT activists – an outcropping of Frank Kameny's unsuccessful yet historic 1971 campaign to serve as D.C.'s delegate to Congress, launched as the Gay Activists Alliance of Washington, D.C. – about a decade ago.
"Coming around to GLAA, I began to appreciate the behind-the-scenes and meticulous work that GLAA does," Wood recalls. "People such as Craig Howell and Rick Rosendall obviously knew the ins and outs of District government. They knew the players, the agendas. They would testify. It's all the minutiae that's not very glamorous, but a lot more effective and cost-efficient than some other tactics."
Another former GLAA president, as well as former secretary and treasurer, Barrett L. Brick, agrees that minding the minutiae has been crucial in GLAA's incremental successes, though they may not have come with the sort of fanfare that demands confetti and lofty speeches.
"GLAA's unique niche?" Brick posits. "Doing our homework carefully. And in a nonpartisan fashion. The point is success, not getting the credit. Though credit is nice."
To the GLAA's credit, the organization certainly has no trouble celebrating others, as is the tradition at their annual gala. The upcoming 40th gala, while carrying the distinction of being a milestone, is no different in that regard. This year, the GLAA will be offering Distinguished Service Awards to Rev. John Bryson Chane, co-founder of the Episcopal Church's "Bishops Working for a Just World"; Sharon Farmer, former White House director of photography and an Equality Forum GLBT History Month icon; David Friedman, director of the D.C. Regional Office of the Anti-Defamation League of B'nai B'rith; Theodore "Teddy" Guerrant, the "longest-running accompanist in the gay and lesbian choral movement"; Ronald King, who managed the first CDC-funded outreach program to black and Latino sexual minorities in D.C.; and David C. Ward, curator of the National Portrait Gallery's "Hide/Seek" exhibit.
"We have a group this year that once again spans the spectrum – people of faith, from the nonprofit and legal communities, artists who have been pioneers in their fields, who have taken professional and sometimes personal risks on our behalf," says Wood, adding that even as GLAA marks 40 years of work, making it the longest continuously active LGBT-advocacy organization in the country, there will plenty to occupy the group's attention moving into the future.
"Even after 40 years, GLAA still has plenty to do," he says. "We will monitor the D.C. government agencies responding to a still rampant AIDS epidemic. We will work with [D.C. Public Schools] Chancellor [Kaya] Henderson's staff to ensure there is a comprehensive and inclusive anti-bullying program in DCPS. One of our more recent initiatives is working with the D.C. Board of Nursing to develop an implement an LGBT-inclusive training curriculum."
Those may not be agenda items to fire the imagination, but GLAA members are a special and dedicated breed. And regardless of what you know of them, if you are a member of D.C.'s LGBT community, it would be impossible to conclude that GLAA's work has not somehow touched your life.
Wood invites those who would like to better know the GLAA to join them at their anniversary gala, which promises to be far more festive than a regular monthly meeting.
"Being polite, you can call us policy wonks," Wood says with a bit of a laugh. "Even though we are very serious about our business in meetings or on our blog, we can have a good time and laugh."
The GLAA 40th Anniversary Reception and Distinguished Service Awards gala is Wednesday, April 20, from 6:30 to 9 p.m., at the Washington Plaza Hotel, 10 Thomas Circle NW. Tickets begin at $75, with $50 being the minimum donation, available by calling 202-667-5139 or via glaa.org.