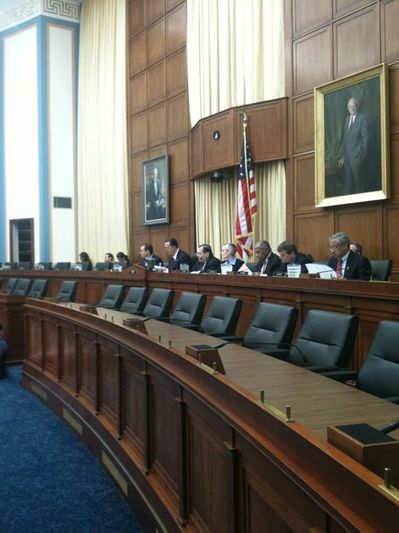 Today, the House Judiciary Submcommittee on the Constitution held its scheduled hearing on "Defending Marriage," featuring testimony from the National Organization for Marriage head Maggie Gallagher, Ed Whelan of the National Review and Ethics and Public Policy Center and Rutgers Law professor Carlos Ball.
Rep. Trent Franks (R-Ariz.), the chairman of the subcommittee, opened the hearing with a discussion of the Feb. 23 decision by the Obama administration to stop defending Section 3 of the Defense of Marriage Act. The Department of Justice decision, he says, is the purpose of the hearing.
The only problem — for opponents of same-sex marriage — was that none of the Republicans on the subcommittee, save for Franks, bothered to show. None of the offices of the five absent Republicans — vice chairman Rep. Mike Pence (Ind.) and Reps. Steve Chabot (Ohio), Randy Forbes (Va.), Steve King (Iowa) and Jim Jordan (Ohio) — responded to inquiries regarding the reasons for their absences from Metro Weekly.
All of the Democrats on the committee — ranking minority member Rep. Jerrold Nadler (N.Y.) and Reps. Mike Quigley (Ill.), John Conyers (Mich.) and Bobby Scott (Va.) — were in attendance.
Nadler opened the Democratic side by noting, "What we ought to be exploring in this hearing, and before the House of Representatives engages in time-consuming and costly litigation, is how anyone can justify prolonging the life of this harmful law."
The first sharp partisan dispute to break out in the hearing came when Conyers began his opening statement by stating, "The thing that bothers me … is that the Department of Justice is not here and, I understand, was not invited."
Franks responded by stating that a DOJ oversight hearing would be held in May, and that these issues could be raised to DOJ at that time. Both Conyers and Nadler took issue with that, with Conyers saying he was "not pleased" with the decision to hold this hearing before the DOJ oversight hearing.
Judiciary Committee Chairman Lamar Smith (R-Texas), joined the hearing for a few minutes, alerting the crowd to the fact, in his words, that if we change marriage by allowing same-sex couples to marry, "harmful, unintended consequences could follow." By refusing to defend DOMA, Smith said, "the president has invited courts to override that popular law."
Gallagher, true to form, highlighted that marriages of one man and one woman "are the only unions that can create new life." She said, "This is the public reason why government gets involved …"
Gallagher, going over the five minutes allotted to her for her opening statement, says there would be "profound consequences" of treating same-sex couples like interracial couples.
Ball, going second, spoke about the history of cases in which the executive refused to defend a law and the argument for the unconstitutionality of DOMA. He concluded by discussing the case of Edith Windsor, currently before the Southern District of New York and one of the two cases in trial courts in the U.S. Court of Appeals for the Second Circuit that led DOJ to send the Feb. 23 memorandum. "In the end," Ball said, "there is no rational reason to impose a huge tax burden on Edie."
Whelan went off most clearly in attacking the DOJ, saying the Department had never truly defended the law, but rather made a "charade of pretending to defend DOMA." House intervention, Whelan said, should be supported by all House members, regardless of their view of the constitutionality of DOMA, "as a matter of principle."
[NOTE: This post was updated throughout the hearing and day.]
The Think Progress highlight reel: