Ashliana Rowe's mother helped her daughter choose a stage name — to use in performing burlesque.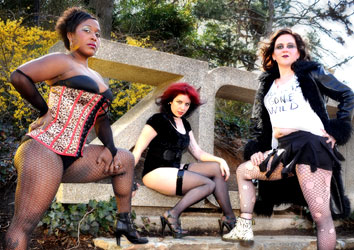 DC Gurly Show
(Photo by Todd Franson )
"I actually emailed my mom," says Rowe. "'Mom, I don't know what to be called. Here are three options."' They settled on Private Tails. "She said it was the weirdest name, and out of all the choices I gave her, it would definitely make people look twice."
Obviously, the DC Gurly Show, which Rowe, as Private Tails, has run since January, isn't your grandfather's burlesque. It's not a traditional striptease show.
"We play with gender," says Rowe. "We've had actual males as members of the DC Gurly Show. And we have trans men, who are pre-op, perform with the Gurly Show. We don't discriminate."
Anybody can perform, as any gender, no matter how they identify. The focus is on "expression," and letting "the creativity of each performer shine through." Some burlesque dancers perform by lip-synching, while others adhere to tradition and sing live. "Lip-synch makes it drag, in the eyes of a classical burlesque dancer," says Rowe. The only rules are to respect your fellow performers and to follow the law. "We make sure it's a safe space."
The Gurly Show is similar, if not a more freeform, to the DC Kings. In fact, it grew out of that local drag king organization. The "gurls" even still perform with the Kings every month at Apex's Gloss women's party.
A 27-year-old native of Fairfax, Rowe first started playing with gender as a tomboy cheerleader at W.G. Woodson High School, when she wore pants under her cheer skirts and didn't mind getting bruised playing sports. On top of that, as a senior, her "best friend was gay. We would go to Apex on Thursday nights. He would dress up like a girl and me like a boy."
In addition to a part-time gig at Northern Virginia Community College, Rowe spends much of her time as a dog-walker. But her passion lies in burlesque. Along with fellow Gurly Lola Rose, Rowe intends to open a school of burlesque to train people in the art. They also hope to start a regular show at a straight venue.
Next Friday, April 15, Rowe, as Private Tails, will helm a "Gurlies Gone Wild" party at Phase 1. "It's seriously up for interpretation," Rowe says. "We've got some people going animalistic, [and] some people are going…a little bit trashier, with aspects of insane asylums and mental institutions, that kind of wild."
Rowe says it not just her mother who supports her burlesque dancing. Two of her straight sisters have "been completely floored by exactly what I do. [And] my uncle wants to come to a show now. It's crazy.
"There's a lot of people who want the strip-club experience without all the danger and taboo," concludes Rowe. "And that's kind of what we provide."
The next DC Gurly Show is Friday, April 15, starting at 10:30 p.m. Phase 1, 525 8th St. SE. Cover is $5. Call 202-544-6831 or visit phase1dc.com.