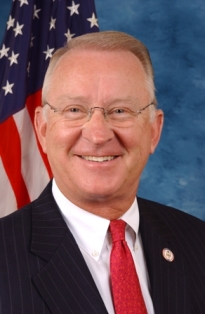 Following up on this past week's largely uneventful House Armed Services Military Personnel Submcommittee hearing featuring Undersecretary of Defense for Personnel and Readiness Clifford Stanley and director of the Joint Staff, Vice Adm. William Gortney, the full House Armed Services Committee (HASC) will be taking a crack at hearing from the service chiefs on Thursday, Apr. 7.
According to the HASC website, the hearing — "Testimony on Repeal of Law and Policies Governing Service of Openly Gay and Lesbian Service Members" — is set for 1 p.m. Thursday and will feature testimony from:
General Peter W. Chiarelli, Vice Chief of Staff, U.S. Army
Admiral Gary Roughead, Chief of Naval Operations, U.S. Navy
General James F. Amos, Commandant, U.S. Marine Corps
General Norton A. Schwartz, Chief of Staff, U.S. Air Force
The HASC chairman, Rep. Buck McKeon (R-Calif.), was a strong opponent of the Don't Ask, Don't Tell Repeal Act, leading the floor opposition in December 2010.
It's notable that McKeon allowed the subcommittee to hear testimony from the Pentagon officials who had been supporters of the repeal efforts while having the full committee hear testimony this week from the service chiefs, who had been less supportive — and, in cases, opposed — specifics of repeal. In the Senate this past December, to compare, the Senate Armed Services Committee heard from the Pentagon leadership on Dec. 2, 2010, and the service chiefs on Dec. 3, 2010. This had set up a balance of viewpoints that McKeon's scheduling decision avoids, at least in the full House committee.
Following the announcement of this hearing, Servicemembers United executive director Alex Nicholson told Metro Weekly, "This second hearing on the repeal of 'Don't Ask, Don't Tell' by House Republicans is yet another example of some of these legislators contradicting their own principles.
"This issue has been settled, the Department of Defense has embraced this change, and trying to re-open this debate is a complete waste of both taxpayer money and the valuable time of these senior defense leaders in the midst of multiple overseas conflicts. The Joint Staff has made it clear that prior predictions of doom and gloom following repeal were misguided and that their respective services are more than capable of handling this change in policy."