You might call Michelle Peterson-Albandoz a dumpster diver for art. The Chicago resident trolls for wood in "dumpsters and back alleys and stuff" to create sustainable art using only found materials.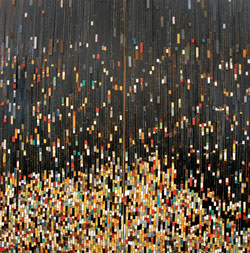 Untitled by Michelle Peterson-Albandoz
"If there's someone tearing out the insides of a greystone, I'm one of the first people to arrive," she says. "[Chicago home renovators] all recognize me now and wave. I'll bring them a six pack of beer once in a while, which is probably not a good idea, but that's what they want." And some homeowners commission her to create sculptures as a "souvenir of what the building used to be."
The finished products are generally large hanging wood sculptures. Her largest piece currently on exhibit in the "Revive" show at D.C.'s Long View Gallery is 6 feet by 12 feet. The smallest isn't tiny: 2.5 feet by 3 feet.
The lesbian artist grew up in Connecticut "constantly building. Always building tree forts…and drawing and doodling and chopping stuff up. Kind of the typical tomboy." The 49-year-old moved to Chicago to study at the Art Institute of Chicago 20 years ago and never left. She runs her own Las Manos Gallery.
Peterson-Albandoz started in painting and mixed-media but made the switch to wood sculpturing about three years ago in part to live up to her activist ideals. "I'm involved with a lot of organizations that are working on environmental issues," she says. "I'm hoping that my work can help bring consciousness and awareness to our environment. These materials are just so gorgeous and we should be better caretakers."
She concedes the work is "a dangerous sport. Eventually I'm just going to get too old to handle those big tools. I'm hoping I can get back to [the paintbrush] — if I don't cut my fingers off first."'
Revive is on display until May 1 at Long View Gallery, 1234 9th St. NW. Call 202-232-4788 or visit longviewgallery.com. '