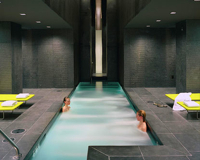 DAY 3
For my final full day in Sin City, I started with another spa treatment. This time I headed to the bathhouse at THEhotel, sister property to Mandalay Bay and an MGM Resorts property. It features uniquely European styling with slate walls, marble floors and breathtaking water features throughout. I had a very relaxing warm stone and aromapothecary massage.
After my treatment ended, I went to Mandalay Bay's Border Grill for lunch. The restaurant, which serves modern Mexican cuisine is owned by lesbian chef Susan Feniger and her business partner chef Mary Sue Milliken. Executive chef Mike Minor prepared a tasting menu so I could experience a variety of the creative offerings. I loved every dish but most impressed with the slow-roasted Yucatan pork that simply melts in one's mouth.
Next on the agenda were visits to the Luxor hotel to tour Titanic: The Artifact Exhibition, currently on display. The 25,000-square-foot exhibit features numerous items from the Titanic, recovered from two and one half miles below the surface of the Atlantic, including luggage, the ship's whistles, a window frame from the Verandah Cafe and an unopened bottle of champagne with a 1900 vintage. In addition, the exhibit features a piece of Titanic's hull, a full-scale re-creation of the Grand Staircase, and a newly expanded outer Promenade Deck.
I also made a stop at the CSI: The Experience attraction at the MGM Grand Hotel, where visitors play the role of a crime scene investigators and help to solve one of three staged murders. It is highly interactive and perfect for fans of the show and forensic science buffs.
Before I knew it, it was time for dinner. I decided to go casual and dine at Serendipity 3, located along The Strip in front of Caesars Palace. It has a fun old school diner decor and serves great comfort food. I had some tasty Kobe sliders and out-of-this-world onion rings. And of course, since I had already been stretching my diet the entire trip, I had a sundae with vanilla ice cream and fresh strawberries (which I think makes it healthy).
I concluded my evening by seeing The Lion King back at Mandalay Bay. Broadway shows have had mixed results with Vegas audiences throughout the years, with hits such as Mama Mia and duds like Starlight Express. The Lion King has done well, but will end in December, after more than three successful years. Rumor has it that Cirque du Soleil's new Michael Jackson-themed show, touring at Mandalay Bay for the month of December, will eventually take up residency at the hotel.