The Maryland Senate's Judicial Proceedings Committee held a hearing on House Bill 235, the Gender Identity Anti-Discrimination Act, today, April 7, taking testimony in favor of and against the bill. The committee did not, however, vote on the bill this afternoon.
The committee's clerk office confirmed that it could not establish whether a vote would occur tonight or tomorrow, although a vote is expected by tomorrow at the latest. According to transgender activist Dana Beyer, the vote's schedule is unpredictable.
The bill passed the House of Delegates with a favorable vote, 86-52, on Saturday, March 26. If the committee votes favorably on its passage, the legislation would then move to the Senate chamber for a floor vote.
"There are five legislative sessions left," Beyer said, talking to Metro Weekly. "There will be two tomorrow, one Saturday and two on Monday. This committee will vote, as they're beginning now, on a whole sleuth of bills, we might be voted on tonight, we might be tomorrow morning.
"Senator Thomas Miller (D-Calvert and Prince George's Counties) told us that if Equality Maryland could show him the votes on the Senate floor, if we get out of this committee, he will expedite our Senate vote," Beyer said.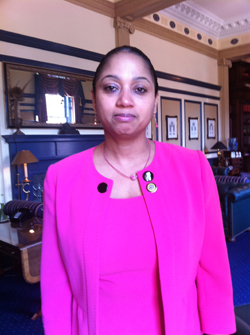 Both Delegate Joseline A. Pena-Melnyk (D-Anne Arundel and Prince George's Counties), the lead sponsor of the bill, and Equality Maryland have stated publicly that they have secured commitments from a majority of the senators to vote for the bill.
Beyer noted, "So we could be on the Senate floor for second reading tomorrow during the afternoon session."
During the hearing, which began shortly after 2:20 p.m., Delegate Joseline A. Pena-Melnyk (D-Anne Arundel and Prince George's Counties), the lead sponsor of the bill, addressed the committee, talking about the bill's history and the struggle to get it thus far.
"House Bill 235 has been a bill that we have worked on for almost five years," she said. "We have made adjustments to the bill because of meetings with this committee."
"It's simply an anti-discrimination bill. What it says if you express yourself other than the sex you were born, you shouldn't be discriminated against. It is not a bill about your moral values… [it's about] employment, housing and credit."
Pena-Melnyk said taking out public accommodations was a result of meetings with the Judicial Proceedings Committee.
"You will hear today from the opposition that the sky is going to fall, that men will go into the women's bathroom and women will go in the men's bathrooms …. It is not about that. We removed the public accommodations and we also exempted the church."
She added that the bill also does not apply to employers with less than 15 employees.
"All that is left is a bill that says do not discriminate against this group of people when looking for the basic necessities in life: housing, employment and credit."
Other supporters of the bill who testified included Catherine Shape, a biology teacher at American University who lost her transgender son to suicide last year.
"My son took his life last April and a couple of days before he did so he was weeping and railing against life because he felt like he had tried everything," she said.
"He had changed his name legally, he had taken hormones, he couldn't go back to school, he dropped out … because he couldn't take the harassment … and he just didn't know how to go forward with it.
"We cannot help the people who've gone," she added, "but we can help the people who are there now, and who are going to come along."
Those opposing the bill were broken down into two groups. One group of witnesses argued against transgender protections in the state, saying transgender people are "mentally ill" and that passing the bill would lead to confusion for children, lead to lawsuits, hurt businesses, and eventually lead to bathroom accommodations.
A second group opposing the legislation was comprised of LGBT people who argued that the bill was inadequate without public accommodations.
"It's difficult being put in the same waiting area as people who oppose the bill for different reasons than I am," Ashley Love, a transexual, transgender and intersex advocate from New York, told Metro Weekly before the hearing.
"They're opposing it for ignorance, fear, and hate. I'm opposing it out of principle, meaning that this bill passing in its compromised form, in that it excludes public accommodations, will imply that transexual and transgender Marylanders are second class citizens and it can lead to a domino affect around the country."
Jenna Fischetti from Laurel, Md., who is the media director of Trans Maryland, agrees with that assessment.
"Never in the history of transgender-specific legislation has any state gone back and added a public accommodation only provision when there is already an existing law," she said, adding that public accommodations go beyond bathrooms to include hospitals and hotels.
"We believe that it needs to be a part of a comprehensive strategy in order to be able to get it, just like other states have done in the past."
In a statement released following the hearing, Morgan Meneses-Sheets, executive director of Equality Maryland, said the organization will continue to fight for passage of the bill.
"Equality Maryland remains committed to doing all that we can to move this critical legislation forward in time for full passage this year. With just a few days left we're in a difficult struggle for these important protections. HB 235 provides vital protections for 1 in 5 transgender Marylanders who lose employment because of discrimination."
"This legislation is long overdue in Maryland. Passage of this bill protects Maryland families from poverty, economic injustice, unfair discrimination, and will literally save lives. Every Marylander who believes in fairness and justice must call and email their legislator so that we can pass these important protections this legislative session."