Kylie Minogue is coming back for more.
The international superstar only properly toured North America for the first time two years ago, more than two decades into her career. And even that was a limited run, going to only a handful of cities.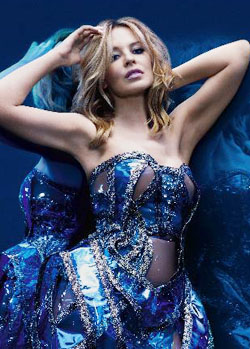 "The tour I did in 2009 — that's why I'm coming back," says Minogue. "It was so amazing. The energy was just out of control — the passion from the audience, my excitement at being there."
Minogue returns for a month-long tour at North American stadiums, including a stop at George Mason University's Patriot Center on Saturday, April 30. She's touring in support of last year's pleasing all-dance album Aphrodite, her eleventh studio set.
One of Australia's leading exports, Minogue, who now resides in London, is on par with Madonna pretty much everywhere but in America, where she's more of a curiosity — better known than Vegemite, but almost as foreign. A staple in clubs and on dance charts, Minogue's only major U.S. pop hits are the 1987 cover of "Locomotion" and 2001's "Can't Get You Out of My Head," though she just earned mainstream attention for her featured vocals on Taio Cruz's modest hit "Higher." American movie fans might also remember her as the Green Fairy in Moulin Rouge, from fellow Aussie Baz Luhrmann.
"It's been a weird level of success for me in the states, compared to other territories," Minogue says with no trace of bitterness. In fact, she laughs it off. "Sometimes it feels like we're members of some secret society — in the best possible way."
Of course, more likely than not, her American secret society members are gay. But then her "uber fans" the world over are often gay, as are most of the people she works with closely, including her fashion and style right-hand-man William Baker, whom she calls "my gay husband." Minogue says her strong ties to the gay community have been in place from the beginning, as a teen star on the Australian soap opera Neighbours. And her support, notably presenting alternative sexualities and gender variance in her videos and live performances, is unwavering.
"I don't think it's ever been a particular standpoint to take," she says. "In my life, that's just the way it is. These are people I associate with, this is what I believe is right.
"It can resonate as deeply or as superficially as anyone in the audience wants. I mean, there might be someone in the audience who sees how we represent sexuality, and who people are, and who they want to be, and that can have a profound effect on them. There might be someone's nana in the audience who just thinks they're lovely costumes."
Minogue doesn't deny catering to her core crowd. "If we're talking about boys in little tiny toga outfits and sequined hotpants opening the show — okay, we make an allowance and say, 'I think the boys are going to like that."'
Minogue comes across as amiable and notably down-to-earth, unaffected by pretension. She enjoys coming to the states since it allows her to indulge. "I'm not really a junk food consumer," she says, "[but] I love a good crappy American diner," one that serves "terrible coffee — as we say, 'water with the beans dragged through it"' — and "a stack of pancakes."
Also in the states, Minogue "can walk around and not be recognized all the time, which is refreshing."
The tradeoff is that Minogue's American concerts aren't quite the spectacle they are elsewhere. Here, she performs in stadiums or large concert halls, not arenas. At U.K. arenas right now, she's flying over the crowd on her $25-million "Aphrodite: Les Folies" Tour, which also includes a massive hydraulic water fountain and a secondary stage. It takes 100 people and 25 trucks to transport from place to place.
"Sadly," she explains, "those things won't be there" for the North American leg of the tour, rechristened "Aphrodite Live 2011." "We are unable to bring exactly the same production to the states. But we're bringing everything that we can squeeze into the venues…. I guarantee you I'll make up for it with my passion and emotion."
Town Danceboutique's Ed Bailey will serve as DJ before Minogue takes the stage at the Patriot Center. (He'll also open for her in Atlanta and perhaps another stop, to be determined.) Town will also host an After Kylie Party that night with DJ Manny Lehman. Bailey says the club would be happy to welcome a surprise guest. "There's always a chance [Minogue will show]," Bailey says, though he notes the Avon Walk for Breast Cancer takes place on the Mall that weekend. Chances are, the noted breast cancer activist since her diagnosis in 2005 will give any free time to that cause instead.
Minogue suggests her next act after this tour might be what she's calling an "anti-tour," or what any other singer would call a regular concert tour, without all the bells and whistles. "I've never done anything like that before," Minogue says, "[something] where there are no dancers, there are no lights. There's nothing. It's just music and doing songs that are much loved by super-fans but will never ever ever be heard anywhere in a live environment." She's talking b-sides and covers, mainly, sung live in a venue such as the 9:30 Club, with a multi-night run. "Just strip everything back."
Minogue says she'd also entertain the notion of setting up shop in one locale a la Cher or Celine Dion in Las Vegas — which, incidentally, is where Aphrodite Live will wrap up, just days before Minogue's 43rd birthday.
"The luxury of being in one place without the limitations of something that has to be loaded out and loaded in, in less than 24 hours?" says Minogue. "Of course I'd be really excited to do something like that."
Kylie Minogue performs Saturday, April 30, at 8 p.m. at the George Mason University's Patriot Center, 4500 Patriot Circle in Fairfax. Tickets are $55 to $125. Call 703-993-3000 or visit patriotcenter.com.