Lifetime Television used to be the gay man's go-to station. Today — perhaps even more so than Logo — that distinction would seem to go to Bravo and its stable of reality shows. The gay star of one of those shows, Million Dollar Listing, is Josh Flagg, who tools around the swankiest streets of L.A. plying his wares: multi-million dollar properties.
Some might love him, but plenty surely hate him. Take a 2008 scandal during which he was accused of stealing art from clients' estates. No charges were ever brought, but a TMZ headline reporting the allegations certainly made Flagg seem guilty of something: "Douche Skates."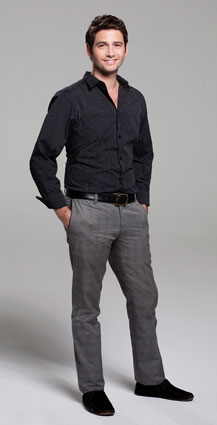 Josh Flagg
(Photo by Isabella Vosmikova)
And now there is another avenue for exploring Josh Flagg — a memoir. Plenty might finish the breezy Million Dollar Agent: Brokering the Dream with no love lost. One could easily perceive Flagg to be nothing more than a ridiculously privileged man-child with a – to borrow from his own phrasing – "pretentious sense of self-worth." Then there's the matter of the run-on sentences and misplaced apostrophes.
But most people don't read memoirs for the punctuation — they read them for the stories. And Flagg has no trouble pulling back the curtain on his own. He tells his readers about his high school sexual exploits and flipping cars. He makes no bones about his ego, his over-the-top tastes or how much money he's made.
Every view, however, has multiple perspectives. And Flagg's story is also one of a 25-year-old who has felt awkward much of his life. There is the tale of a young man devoted to his 91-year-old, self-made, Holocaust-surviving grandmother, Edith. Behind the braggadocio, Flagg's insecurities creep through the pages, making it hard not to see past that silver spoon.
Considering the state of today's tough real estate market and the Flagg family's wealth, you've also got to give the young man credit for opting for the shark tank instead of easy street.
METRO WEEKLY: I didn't see your "coming out episode" of Million Dollar Listing last month. What did I miss?
JOSH FLAGG: I already came out when I was 17, but I decided to come out on television more recently. It wasn't like a big to-do, but more of I just exposed more of my life to the viewer. I just introduced Colton to the viewers.
MW: Was Colton excited about that, or did he have some reservations?
FLAGG: No, he was fine. He would do whatever would make me happy. [Laughs.]
MW: That's a good quality in a partner. In your book, you write about the importance of philanthropy, and I saw on your site that sales of your first book, A Simple Girl: Stories My Grandmother Told Me, benefit the Jewish Federation of Greater Los Angeles. I'm wondering if there are any LGBT causes you've supported or would like to get involved with.
FLAGG: I don't know yet. But, yes, we're looking into different things right now. I want to choose one and stick with it.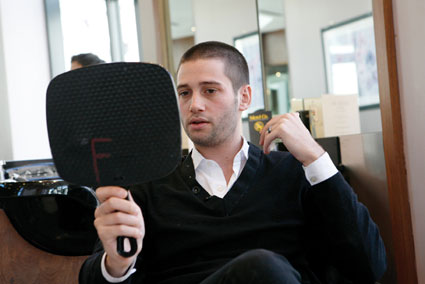 Josh Flagg
(Photo by Evans Vestal Ward)
MW: Then I'm going to put a plug in while I've got you. Are you familiar with Triangle Square?
FLAGG: No.
MW: It's low-rent housing for LGBT seniors in Hollywood. I'm sure they could benefit from your celebrity.
FLAGG: That sounds interesting. I'll look into it.
MW: Something that also strikes me from your book is you seem to have a pretty harsh view of yourself, while – at least to me – the bit of you I saw on Bravo seemed fairly down-to-earth.
FLAGG: Well, you can be down-to-earth and judgmental of yourself, can't you? I have a bit of arrogance to me. Once you sit down with me, have a conversation with me, it comes out. [Laughs.]
MW: But TMZ — when there was that accusation about the paintings but no charges filed — ran a story with the headline "Douche Skates." And you include mention of being called a "douche" in your book. Why that reputation?
FLAGG: I think that's just an image from the first season of the show and from the press. I don't know why they would use that. I don't know because I don't write those articles. But it's somebody's opinion, and everyone is entitled to their own opinion.
MW: What sort of feedback do you get from viewers?
FLAGG: It's mostly all positive. Everyone just thinks I'm really funny. I don't try to be, but people think I'm funny. I just say it as it is. I guess that's funny to people.
MW: Celebrity aside, how is business in your market these days?
FLAGG: When the market crashed a couple years ago, it was horrible. Everything just went down, down, down. Then for a while the market was stagnant and no one was doing anything. But just recently I've noticed there have been some pretty big sales. That doesn't necessarily indicate to me that the market is returning. Maybe it just means there are some stupid people with a lot of money who wanted those particular houses – I don't know. But it also could mean the market is returning. It's too early to tell. I can say this: It's not getting worse, at least from what I can see. Either we're staying where we are, or it's possibly returning.
MW: You are the consummate Beverly Hills guy, and you're steeped in L.A. history. But I wonder if you'd ever like to dive into a different market.
FLAGG: Anywhere I can make money, I show properties. Obviously, I can only sell in California, because I'm licensed here. But I can co-list a property anywhere. I just hook up with another agent in another country, another place. It's easy.
MW: Do you find agents are just as cutthroat when you're working outside of the L.A. luxury market?
FLAGG: There are commissions to be made and people are very aggressive. People want their hands on the money. I think that's the same everywhere.
MW: You have a chapter at the end of your book, "How to be a Successful Agent, Josh Flagg Style," but I'd like to ask you about the recession in particular. Any advice for agents who are struggling in this downturn?
FLAGG: Now is a great time to decide what career path you want to go into if you are no longer enjoying real estate. When the market is depressed like this and you have an opportunity, go into a different field. This is really when we tell who the real estate agents are and who the part-time real estate agents are. People who just do it on the side can't really stay afloat in this business. There are a lot of people who do it a little bit, who have a real estate license and do it on the side. That doesn't work in this market.
The book is a great tool for somebody who's starting out in the business, or somebody who is looking for a career path and just needs motivation in their life. I think that the book is a great tool in that sense.
MW: Since I'm not an agent, but I am a worrier, let me hit on one last point in the book. You haven't been in any car accidents lately, have you?
FLAGG: No! [Laughs.] I just drive very carefully now.
MW: I would almost suggest you wear a helmet when you drive.
FLAGG: Or get a driver.
Million Dollar Agent: Brokering the Dream is available online at joshflaggbook.com for $14.95 or $9.95 as an e-book. For information about Bravo's Million Dollar Listing, visit bravotv.com/million-dollar-listing.