Ask Leisha Hailey about The L Word, and at first she stumbles. "Oh gosh, it's been so long since I've been on that show," says Hailey, who played the popular bisexual journalist Alice Pieszecki throughout the run of the Showtime series. "I think after seven years there was definitely things that were similar between myself and the character. But I'm definitely my own person."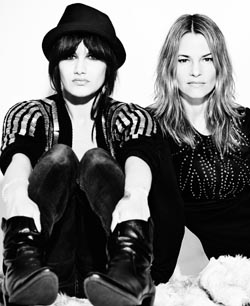 Uh Huh Her
For one thing, Pieszecki wasn't a musician. Though the queer Hailey misses acting and plans to return to it at some point, she notes "I'm a musician first. Always have been."
Hailey got her start in the limelight in the '90s pop band the Murmurs. For the past few years she's earned fame in the electro-pop duo Uh Huh Her with Camila Grey. "Originally there were a lot of L Word fans that were coming," she says. "But I feel at this point, the people that come to the show are coming because they like the music or they're fans of the band." Certainly 2008's sleek and stylish debut Common Reaction attracted plenty of fans all its own.
The duo, originally a trio and named after a PJ Harvey album, is touring in support of a new six-song EP, Black and Blue, as well as to preview a new album, Nocturnes, due late summer. "We've gone more in the direction of rock [with the new material]," says Hailey, who usually plays bass and sings backing vocals, though, "we swap instruments a lot."
Uh Huh Her performs Monday, May 2, at Nightclub 9:30, 815 V Street NW. Tickets are $15. Doors at 7 p.m. Call 202-265-0930 or visit 930.com.