Over the course of its nearly four decades, the Whitman-Walker Clinic – born as the Gay Men's VD Clinic – has been a constant component of the D.C. area's LGBT community. It's also seen changes in navigation, both mild and extreme.
From dealing with newly liberated gay men's social ailments of the '70s that could often be mended with a single shot, to quickly adapting to an AIDS epidemic that devastated a community and continues to do damage today, to money woes and controversial lay-offs, the clinic has evolved. It has come so far, in fact, that today the clinic is no more. In its place stands Whitman-Walker Health.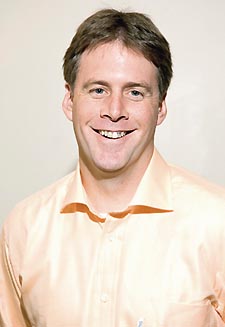 Blanchon
File photo by Todd Franson
"From my perspective, 'clinic' had a specific meaning when we were named a few decades ago, but it has practically a different meaning now. It's limiting," says Don Blanchon, the organization's executive director. "'Clinic' is seen as performing one service, one given time during the day. There are connotations of being a place of last resort, a stigma of socioeconomic factors. It's a focus on sickness and not prevention, which is what we do now as a primary health center. We do a lot of prevention and education."
The change to Whitman-Walker Health coincides with the health center's April 27 spring gala fundraiser. And when it comes to funds, Blanchon assures that the change does not carry a high price tag, pointing, for example, to Ashley Clarke, Whitman-Walker's marketing and graphics manager, who designed a new logo in-house as part of this effort.
Speaking about the new logo of triangles in rainbow colors, David Messing, a board member for eight years and newly elected as its president, says the board recognizes both a need to evolve and to stick close to Whitman-Walker's gay founding.
"We want to evolve to a place where anyone in the community can come get their health care, but we're not retreating from our LGBT roots," he says. "The vast majority of the board felt this was the way to go, recognizing there's some sensitivity about changing from 'clinic' to 'health center.' We want to make sure we're not retreating from our GLBT history."
Blanchon says that while the name change is effective as of Wednesday's announcement, the rebranding effort will take nearly a year. That means retooling the website, ordering new letterhead – though not till they've run through all existing stock – and educating the public.
"The takeaway is to look at who we are and to give us consideration as your first choice for care," Blanchon says. "It's not solely for HIV tests, STD tests, mental health, but for ongoing, primary care.
"First and foremost, we need to try to educate the community about what it means to be a health center – the hours, the quality of what we do, what insurance we accept for care. The first place is just a place of education."