It started simply, as these things go.
Manhattanites Josh Kilmer-Purcell and Brent Ridge felt the lure of a weekend place in the country, a place to relax from their hectic careers in the big city. When they bought Beekman Mansion in upstate New York, they planned some simple weekend farming: a few chickens, a few vegetables.
It didn't stay simple.
Beekman Boys: Brent Ridge and Josh Kilmer-Purcell
(Photo by Chris Ramirez)
The couple hired Farmer John, a local gay farmer in search of a home for his goat herd, as their farm manager. They became more involved in the ebbs and flows of the farming life. With the recession wreaking changes on their professional lives — Kilmer-Purcell was in marketing and had published a memoir and a novel, while Ridge was a physician who had become Martha Stewart's "Dr. Brent" — they found themselves as full-time farmers with the goal of creating a successful small farm.
Not the easiest career goal in an industry dominated by corporate farming.
But that marketing and media savvy has helped them achieve that goal. Many were introduced to the duo with Kilmer-Purcell's book about their newly acquired farm life, The Bucolic Plague. Many more now tune in to their Planet Green reality show The Fabulous Beekman Boys, which was just picked up for a second season. Their company, Beekman 1802, sells their farm products, from cheese to goat-milk soap. They've signed up with Williams-Sonoma for a new line of heirloom vegetable seeds, bringing a touch of the farm to home gardeners across the nation.
Next up is The Heirloom Recipe Cookbook from Beekman 1802, a highly interactive affair that both touts their farm-tested recipes and provides a way for others to preserve their own heirlooms.
"The book is fashioned to be like a scrapbook," says Ridge. "There are places and cards throughout the book where you can handwrite in your families own heirloom recipes, like your grandmother's famous recipes, and then you hand that book off to the next generation."
With their commitment to healthier (and better-tasting) food and sustainability, the Beekman Boys have their plows in a lot of fields — and they've found it a wonderfully fertile experience.
METRO WEEKLY: Tell me a little about your project with Williams-Sonoma.
BRENT RIDGE: They approached us last year about how they could get into the gardening market. So we put together a kit of the same heirloom vegetables that we grow on the farm, and they're selling those seed kits in all of their stores. We're calling it the "World's Largest Community Garden." Every two weeks we send out an email checklist of what they should be doing over the next two weeks with their garden, and it's broken down by growing zones, so whatever growing zone you happen to be in we will tell you what you need to do in that growing zone.
MW: What are your favorite vegetables out of the ones that you grow?
JOSH KILMER-PURCELL: Oh, that's easy. There's a pack of tomato seeds that's black cherry tomatoes — they literally taste like candy.
MW: I love tomatoes, but we have birds that eat all of our tomatoes when we try to grow them. What's something that you've learned from farming that would be a tip for someone who's a backyard gardener?
KILMER-PURCELL: Not everything is going to work every year. One year might be good for beans and one year might be good for lettuce — you can't expect everything to work at the same time. The best insurance that we've found is to find a variety of the same species. If you're planting beans, plant three or four varieties. There might be a bug that comes along that only eats one of those, so you might lose that particular variety but you won't lose all of your beans.
MW: I grew up in the country with farming family and I couldn't really wait to get away. I'm curious about what specifically it is that makes you want to be farmers.
RIDGE: The recession forced us to make a living from the farm, but I think that more than anything, what has driven our passion is a reawakened appreciation for the seasons of life and how that teaches us really to appreciate everything in life. You have to have the absence of something before you can appreciate something. When you live in a world where everything is always readily accessible, you never really appreciate anything. We grow and can the tomatoes, so when in March we've completely run out of them we don't have another tomato until the end of August. And when we taste that first tomato, it's the most amazing thing that we've ever tasted. If you go through life learning to appreciate things, you're going to get so much more out of life. People often don't appreciate what they have.
MW: You mentioned that with the recession you had to make the farm a profitable business. How has being involved with farming changed your life in the city?
RIDGE: I live on the farm full time now. I think that level of appreciation goes both ways. When I was living in the city full time I didn't always appreciate what the city had to offer, I didn't appreciate the energy and the creativity. Now I come back into the city once a month or so to deliver cheese or something, and when I'm here I really appreciate things. If I walk by a store window with a really creative display, I really appreciate that because I'm not seeing it all the time. I see it with a fresh set of eyes.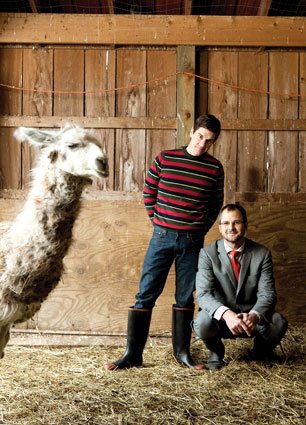 Beekman Boys
(Photo by Joao Canziani)
MW: Josh, early in the book you tell the story of when you first got to the house after you bought it and set off the alarm. You convinced the lady from the security service to turn it off and it was kind of a moment where it went against your own expectations of distrust that maybe city life had instilled in you. Has that kind of experience continued as you've lived in rural America?
KILMER-PURCELL: Definitely, we were surprised at how trusting and accepting everybody is. I think living in the city and having media centered in the city, rural people are often presented as not as smart and more close-minded. We've found the opposite couldn't be more true. We've found that in a lot of ways they are much more advanced in sustainability than we are in the city. They're more conscious of growing their own food. Because the grocery stores and the Wal-Marts might be 20 miles away, they recycle more of what they have.
MW: From the perspective of being a gay couple, do you feel accepted?
KILMER-PURCELL: We are fully, 100 percent accepted. It's proven true something that I've believed for a long time, that very wealthy people and economically challenged people don't have problems with homosexuality. It's the middle class and suburbia that don't have anything better to do than to sit around and decide what they don't like today. In the country, as long as you're a good neighbor and you help out when help is needed, it doesn't matter who you are.
MW: Sorry to keep coming back to the "I grew up on a farm" thing, but I watched my grandmother kill chickens that we later ate, something I thought back on reading your story about killing your first Thanksgiving turkey. When you have that intimate of a relationship with what you're eating, it can change your view of animals. I've always felt like people should probably have a better idea of what it actually means to eat meat. Has it made you think twice about it?
RIDGE: For sure. We're certainly more vegetarian now than we ever were. We're not completely vegetarian; I would say probably 60 percent of our meals don't include meat. But we do like meat, and all the meat that we consume is meat that we've grown on the farm. We know those animals have been treated in an ethical way.
During the first season of the show we filmed the harvesting of two of our pigs, and that was probably one of the most controversial episodes. We got a lot of emails from people who felt that we shouldn't have named the animals and whatnot. But to us, that's how we showed our love and appreciation for the animal. Yes, it did make it more difficult when it came time to do the harvest, but it also made us value that food a lot more. We don't think there's anything wrong with that. When you see something on your plate, you should understand its true value. That's one of the things that's really wrong with America — we don't value our food. We only want something that's cheaper. It's a real problem.
KILMER-PURCELL: Knowing your food, naming your animals and treating your animals well definitely makes killing and harvesting them more difficult. We began to question why killing your food shouldn't be difficult. It should be a tough decision every time.
MW: Do you think people simply look at live animals as pets?
KILMER-PURCELL: We got a lot of letters saying that we treated our animals as pets and then we killed them. Our response to that is, if we're going to eat animals, how should we treat them? Should we not treat them as animals that we love and respect? And if that's what somebody wants to call a pet, they can. But we would never treat one animal differently because we were going to eat it.
MW: What have you learned about animals in general, or pigs and goats in particular, that surprised you?
RIDGE: To me, watching the animals interact and watching their behavior is so fascinating because, truthfully, human behavior is not so different than what you see in every other species. We rationalize things more, we try to manipulate behavior a little bit more, but we're all really animals. It's just fascinating to see some of the same psychologies that you see in humans play out in the goat herd.
KILMER-PURCELL: One of the things that I find fascinating is the sexuality of the animals. Females will mount females and males will mount males. It's all about what their need is or what feels good at the moment they do it. It's sort of made me realize that these rigid structures that we form around our sexuality probably aren't all that natural.
MW: You've both had really interesting career paths. The other interesting career path is Farmer John, a farmer looking for a place for his goats. Now he's a character in a book and a character in a TV show. How has that relationship been for you guys, how has it grown and changed?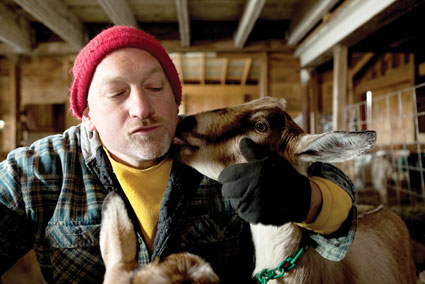 Farmer John with Goats
(Photo by Joao Canziani)
KILMER-PURCELL: We have a really great symbiotic relationship. Obviously, we came into his life at a point where he needed someone to help because he wasn't able to make a living as a farmer, as most small farmers aren't. It has nothing to do with his farming skills — it's just very difficult to make a go of a small farm. We brought our marketing and creative skills to find a different way of farming that could actually earn money. Part of that is putting yourself out there to the public. In the beginning, John was uncomfortable with that because he's shy, but I think he's come to recognize that unless he markets the farm along with us it won't make it.
MW: Americans, I believe, think about farming as Iowa and cornfields. Is corporate farming a part of the scene in upstate New York?
RIDGE: We don't have a lot of large-scale agri-industry in the area. I think the closest thing to that are some of the dairy farms which feed into larger distribution systems, but even those farms really operate on a small-scale, family-owned business model.
KILMER-PURCELL: We learned quickly when we moved up there that the small farms were basically trying to compete on prices with larger farms. That's impossible, that's why they're going out of business. The alternative is don't compete on price, but make people understand why they should pay more for the products grown on small farms.
RIDGE: That's one of the reasons we did this project with Williams-Sonoma. We wanted to give people an idea of how much effort it takes to grow something, because then you really appreciate the work that the farmer is doing. We've become so far removed from the source of the food that we don't appreciate its value. We hope that first-time gardeners will learn the amount of the work that goes into it and place a higher value on it.
KILMER-PURCELL: It's really easy to grow a horrible, tasteless tomato that is covered in pesticides on a factory farm. But to grow a really good tomato that tastes great with no pesticides, people will learn how difficult that is and why they should be paying more for it.
MW: You mentioned, Josh, that it's not about competing on price with a small farm, but about explaining why paying more is a healthier option or a better-tasting option. Does that put us into a place where healthier eating or better eating is something that's only affordable by people with certain levels of income?
KILMER-PURCELL: Whole Foods and that genre get criticized for elitism, but the truth is that for a home farmer it will always be cheaper to grow your own food. It might be more expensive to go to Whole Foods and buy fancy stuff, but it will always be cheaper to grow your own food. For poor people who maybe have challenging economic times, it's the perfect time to start growing your own food, there's absolutely no way to do it cheaper.
RIDGE: There's another part to that answer as well: If more people who can afford to pay a premium for certain products do so, then obviously those products become cheaper for everyone. The other thing is on what things are we placing value in our society? We're so accustomed to thinking we need the newest iPhone or we need the thinnest flat-screen television. Our approach is that we would rather pay an extra dollar to the farmer and to the excellent crop that they've grown and then wait six more months before we can afford a new cell phone.
MW: Do you have favorite animals on the farm?
KILMER-PURCELL: I know my least favorite. That damn llama.
MW: Llamas are a handful.
KILMER-PURCELL: When I suggested [on the show] that maybe we don't need the llama, I never got so much hate mail. [Laughs.] I actually felt threatened because I was going to get rid of the llama.
MW: There's a large llama fan contingent out there.
KILMER-PURCELL: Especially with this one, yeah.
MW: Have you thought about adding other types of animals like that to the farm, or do you plan to stay traditional?
KILMER-PURCELL: The llama we inherited from a farm that was going out of business, we would not have taken it otherwise. One of the things that we've tried to show is that farms are not petting zoos. People may sometimes make fun of us that we're not real farmers or that we're gentlemen farmers, but the truth is we're a dairy farm with 140-something goats. We're a real farm, and to be a real farm you can't have that variety of animals in any great number. Any animal that's on our farm is doing a job, including the barn cats.
RIDGE: People often ask why don't we get horses. We love horses just like anyone else, but there's no real purpose for them on our farm. We have to take heed of that.
MW: Was there a point where you realized, "Hey, I am a real farmer!"
KILMER-PURCELL: I thought we were real farmers as soon as we were producing something that could then be sold. We may have done that through unconventional methods, but at the end of the day that's what a farm is. Maybe when we bought the farm it was going to be a weekend getaway and we just wanted to have a few chickens and things like that for ourselves. But at this point we're supporting our land, we're supporting Farmer John, we're supporting other farmers in the area. I call myself a farmer proudly.
The Fabulous Beekman Boys runs on Planet Green (check your local cable provider). For more information on Beekman 1802, visit beekman1802.com.