Susan Werner trained to be an opera singer, but admits she "was a little too much of an introvert." She wasn't loud enough. Instead, Werner became a singer-songwriter, where her role in performing is to be "a little more of a comedian or dinner-party host."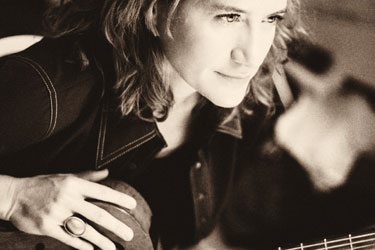 Susan Werner
Werner appears up to the task. Maybe it's a reflection of the Iowa-born, Chicago-based performer's roots, but during a phone interview she comes across as good-natured and wholly unpretentious, cracking jokes and laughing easily.
"I would categorize myself as putting the bacon in the GLBT sandwich," says the singer, who identifies as queer.
"There are probably two songs that will catch the 'queer ear,"' she says of her new blues-focused album, Kicking The Beehive. On "I Know What I want," Werner sings "for anyone who's ever fallen in love with someone from a forbidden demographic, at least from a legal standpoint, or a local one." And on "Doctor Doctor," she pleads with a doctor to save her lover, diagnosed with a serious illness: "She's everything, she holds my heart, she wears my ring."
"When I was working on this project," says Werner, "I thought, what would the blues sound like if more women wrote the blues?" Her songs discuss love and children in greater detail than the standards.
Werner has released several folk albums as well as original sets offering agnostic gospel numbers and Tin Pan Alley tunes. Next up? "I am working on [a musical] for the stage," she says, but declines to go into details.
For now, her focus is on touring with the New York-based queer trio, Girlyman. "I've joked we should [call the tour] 'Girlyman and A Handsome Woman."' Werner might even throw in an opera tune or two. "I have been known to do [that]," she says. "Usually it requires a drink or two first."
Susan Werner performs Friday, April 15, at 7:30 p.m, at The Birchmere, 3701 Mount Vernon Ave., Alexandria. Tickets are $25. Call 703-549-7500 or visit birchmere.com.