Morgan Meneses-Sheets has opponents. They include members of the local LGBT community.
As the leader of Maryland's equal-rights advocacy organization, Equality Maryland, Meneses-Sheets's leadership has come under scrutiny by some members of the LGBT community who say the organization's efforts to secure marriage-equality during Maryland's 2011 legislative session were inadequate.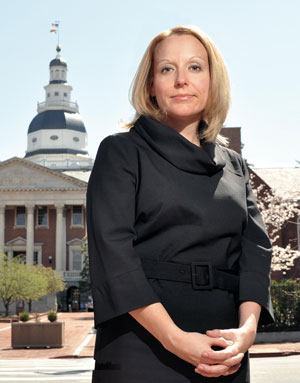 Morgan Meneses-Sheets
(Photo by Todd Franson )
There are others, including the organization Trans Maryland, who argue that a gender-identity antidiscrimination bill backed by Equality Maryland is inadequate because it provides some – not all – protections.
While Meneses-Sheets, 34, a resident of Howard County, disagrees with that assessment, she welcomes the criticism.
"I think it's good for people to be critical thinkers and to care enough to pay attention," she says. "I actually get more concerned about the folks that sort of just sit back and let everyone else do the work of the movement. We always want to do better and be better, so we want the constructive criticism and engagement."
But it's not a question of being "better" in this case, supporters say. It's a matter of just making some bit of headway. Previous efforts to pass gender-identity antidiscrimination legislation that included "public accommodations" protections have repeatedly died in committee.
The lead sponsor of this year's gender-identity bill, Del. Joseline A. Pena-Melnyk (D-Anne Arundel, Prince George's), told Metro Weekly that the current bill would have been killed in committee this year had she not removed public accommodations from its list of protections. This year, Equality Maryland was able to get that bill past committee, past the House of Delegates with a favorable 86-52 vote on March 26, and into a Senate committee where it is currently queued.
And Meneses-Sheets is determined, confident and optimistic when explaining Equality Maryland's strategy to advance equal rights for LGBT Marylanders during and beyond the 2011 legislative session. She points out that this is also the first session in which the organization has been able to get marriage-equality legislation past the Senate, which voted 25-21 in favor of the bill on Feb. 24 – though the marriage bill was ultimately tabled for 2011.
"We are really aware and continue to celebrate that both of these bills had never made it out of committee ever, let alone passed out of the chamber."
A week prior to the April 11 end of this year's legislative session, with the gender-identity bill poised for Senate committee action, Meneses-Sheets is away from her wife, Rae, and their 5-month-old baby girl, Lucy, working long hours in Annapolis. There she spoke with Metro Weekly about her journey from upstate New York to the D.C.-Baltimore area, this year's legislative session, and keeping things balanced at home as a new mom.
METRO WEEKLY: How did you come to this area?
MORGAN MENESES-SHEETS: It was a circuitous route. I went to college in Vermont and then my first job out of college was working on an environmental-protection campaign. That brought me to Massachusetts, Pennsylvania and Michigan. Then I worked in the pro-choice movement, and that brought me to Montana and then to D.C. Then I met Rae and she brought me to Maryland.
MW: As the director of the Montana affiliate of NARAL Pro-Choice America, were you ever threatened or harassed?
MENESES-SHEETS: The funny thing is I've had almost more of that here in this position than I had in that position. You get the random crazy letter, but you're going to get that no matter what. We'd get that in the environmental world. There's always going to be someone with too much time on their hands writing crazy letters and sending them out. That's nothing.
MW: So you've experienced more opposition as the leader of Equality Maryland than you did with NARAL?
MENESES-SHEETS: Yes. Both from inside and outside the community.
From outside the community, especially when you're in a state that is in the spotlight, there will certainly be negative attention at times. But that's never what it's about – it's about the work. And in this kind of a job where you have to give so much of yourself, and give up so much of your life if you're going to do it right, and if you're going to be successful at it, then you have to do it because you can't imagine doing anything else. That's how I feel. I feel like this is my calling. It's about the people who [we] are helping, not about the fact that it's hard or that you wish more people got involved, or you might have gotten a nasty letter or nasty phone call that day.
MW: What's the worst feedback that you have gotten?
MENESES-SHEETS: I don't dwell on it so much that I just immediately come to mind with "the worst" anything. It's the good things that come to me.
I really do feel like I've had these amazing, coincidental opportunities. When I first started at Equality Maryland, right as soon as I started, we had this big fight around the Maryland Motor Vehicle Administration. They were trying to change their policy around the driver's license and gender markers for transgender people, and they were going to change it in a very regressive way. One of the first things that we were spending a lot of time on that fall was making sure that didn't happen – engaging with the attorney general's office, engaging with the governor and engaging with the MVA, and engaging with the community members. And we were able to stop that from happening.
I literally got an email on Christmas morning – mind you, this was supposed to go into effect on Jan. 1 – and on Christmas morning I'm checking my email and here is this notice that we've won. That we are going to keep the policy in place that's a good policy, that's a respectful policy. I got to email all these community members, and all of these transgender volunteers who work with us, that as of Jan. 1 they were going to be safe and still have this fair policy.
MW: So you choose not to dwell on the negative?
MENESES-SHEETS: No, I cant. Even this year, we had the setback in the House on marriage, and we had to come back fighting first thing and just keep fighting on gender identity. No matter how the chips may fall at the end of this session, we'll just come right back and be fighting next year. All the months between legislative sessions, we're working just as hard as we do during the session to be at an even stronger and better place next year. We don't actually even have the option. We just always have to keep moving forward.
MW: Are you going to continue leading Equality Maryland during the 2012 session?
MENESES-SHEETS: Yes, I will definitely be here. When I started this – knowing how close we were to these two equally important pieces of legislation – in my mind and in my heart I wasn't going to leave until we at least saw those two pieces through.
There are many other needs. These are not the silver bullets that solve all problems for LGBT Marylanders by any stretch of the imagination, but they are the next two big pieces that make a critical difference, and so I will see those through.
MW: I ask that because Pena-Melnyk has said she will not be re-introducing a gender-identity bill next year.
MENESES-SHEETS: When someone is right in a fight and when they also feel like the cause has been treated unjustly or they have been treated unfairly – in this case both – it's not the best time to ask someone to make a big decision. So I'd be surprised if she walked away. She's invested so much of herself. I think there are many other wonderful people that can help to continue the effort, but I think we all hope that she can be one of those.
MW: Where you surprised by all the opposition that came from inside the community on the gender-identity bill? Would you say it's constructive criticism or a lack of understanding your strategy?
MENESES-SHEETS: Sometimes there are folks who almost don't want to know how the political system works, which I can understand. There's that famous quote: 'There's two things you don't want to see made: laws and sausage, because they're both ugly and messy.' And that's so true.
This year, maybe more than it has been for a while, we have so many new freshman legislators. Just because you're a freshman legislator doesn't mean you're not as aware of the process or not as invested in the process, but it does mean it's sort of a growth year. Everyone is trying to figure out how to work with each other and we're trying to build relationships with these folks. Some of them don't come with a lot of awareness of LGBT issues. Maybe they've never met a gay or transgender person. Maybe they've never thought about these issues. And when you don't know about something you're always going to be a bit more cynical or hesitant to jump right in with us.
That's made this year more difficult.
And it's been a pretty divisive year, in no way just on LGBT issues. I know our community feels like it's our bills that have gotten unfair treatment, and on any given day I would certainly agree with them. But it's not just ours. There's a lot of really important social-justice issues that also haven't gone as far this year as they could've and should've. It's been a tough year.
But no one said it was going to be easy. No one does this work because it's going to be easy. And anyone in the community who thinks that we're just going to pass everything overnight and solve all our problems, we'd love to sit down and talk with them about the fact that we're in this for the long haul and it's tough work and we're going to keep doing it. Just because it's difficult doesn't mean it's not worth fighting for.
In fact, we know just how worth fighting for this is, because we hear from people every day. We hear from couples and families every day and every week. We hear from transgender people every day and every week, who are being unfairly fired. We literally have to tell them, "Here are some attorneys you can talk to, here's some information, but no, the statewide law does not protect you." How unacceptable to have to say that over and over again.
MW: What surprised you during this year's legislative session?
MENESES-SHEETS: It's easy for someone who isn't in every day – and I'm not saying they don't care – to focus only on the end and not on all the steps along the way. So we are really aware and continue to celebrate that both of these bills had never made it out of committee, ever, let alone passed out of the chamber. And I talk to directors who work for equality organizations in other states and all they're doing is fighting back regressive legislation. They're just fighting not to be in a worse place. My friends throughout the country are under attack because of some of the results of the recent election.
And here we are, we made huge steps forward. No, it's not good enough. We deserve these wins. We deserve these rights. We shouldn't have to beg for them. But it is a step forward. It is progress. And it does make it better for us in the future. We'll have that much better a chance when we come back next year for marriage.
MW: How does the legislative session impact your personal life?
MENESES-SHEETS: This is definitely a very stressful part of the year, as much just because of the hours. They're very long and it puts a lot on my family, particularly on my wife. But she knows how much I care about this. She knows this is my heart, that I love my work.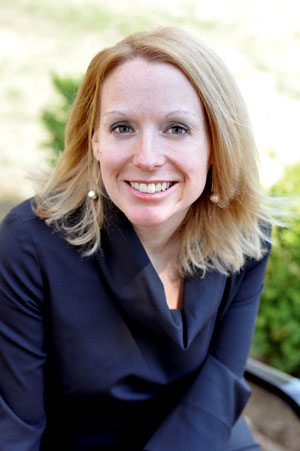 Morgan Meneses-Sheets
(Photo by Todd Franson )
Not for everyone is their work a huge part of their identity – that's not a good or a bad thing – but for me it definitely is. This work is a big part of who I am. Being an activist, this is the only kind of work I could picture myself doing. It's the only thing I've ever really thought about doing once I really knew who I was and what I wanted my place in the world to be. She knows that, so when I'm coming home late for the third night in a row – like this week, three nights in a row that I didn't get to help put the baby down to bed – that's hard. Yet she knows how important it is to our families, to our friends, our friends who are transgender who have experienced discrimination. We know how important it is to them and what they've been through. When we're fighting for marriage, it's also about our family. When we're fighting for gender-identity protections, it's also about our friends who have experienced discrimination. It's an honor to be able to go to work every day and make life better for my daughter and for our friends. So how dare I complain?
MW: Did you always want to be a mother?
MENESES-SHEETS: I always knew I wanted to be a mom. My mom ran a daycare when I was little, so there were always babies around.
With Rae, it was something that she considered. We talked about it and she knew that it was something that I wanted, so it became our plan together. We used a fertility center and Rae ended up carrying our baby. We thought with my job it wasn't all that sensible for me to go first, so she carried our baby and she was born on Election Day 2010.
It was funny. The Monday night before elections, I'm like confirming all of our Election Day plans, because we had all these big events, confirming them all with my staff, and her water breaks. I decided to call my staff and tell them, "I'm not going to be there tomorrow." And she was born at 8:02 in the morning on Election Day. We definitely want to have at least one other child. We both are very close to our siblings, and want Lucy to have that also.
She's amazing. She smiles all the time now. There's the first time they look at you and really see you, and they're like, "Oh, you're my mommy." When I get home she'll look at me and smile at me in just this way that she only does for me. You can tell that she's so happy to see me. Getting an hour, or five minutes, or any time with my wife and daughter at the end of the day, that's how I unwind. Because there's nothing more reinvigorating than just being reminded why I do this, and also being reminded of how lucky I am. She just smiles, and laughs and nothing can clear my stress more than just hearing my little girl laugh.
MW: When did you know you were a lesbian?
MENESES-SHEETS: I always felt different and always had really close female friends. I didn't quite know how to place it or what to think of it, because – no, I'm not saying I'm terribly old – but there were not gay characters on television. And I did not know out gay people in my town. It was a really tiny town.
I just didn't have a real understanding of where to place that until I went to school and met out gay people who are my age. College was the first place that I felt really comfortable and kind of figured out who I was and why I felt different. Where I grew up I never met an out lesbian, especially anybody my age. In college I did, when I was 19, so it kind of clicked. It was the first place that I felt really safe.
When I was a sophomore in college there was a woman who was in the freshman dorm who was out, who was getting harassed. I was one of her sophomore academic advisers, so I ended up working with her and we started the first LGBT group on campus. It was a tiny Catholic women's college. We decided to start a group, partially in response to what she had endured. I wasn't really out yet, but that was kind of the thing that brought me out.
In my senior year, I needed to decide if I was going to student teach, because I was taking all these policy classes, or if I was going to do an internship. I decided not to student teach, and I went to D.C. and did an internship at the Human Rights Campaign.
The semester I was there was when Matthew Shepard was killed. That left a really lasting impression and was probably the thing that finalized my decision to make activism my life. I remember that: My college girlfriend came down to visit. It was Columbus Day weekend. I remember going in – because I've always been an overachiever, going in on Columbus Day – and sitting in my cubicle at HRC, reading an email about what had happened to him, and then sitting there and sort of crying in my cubicle by myself. And then coming in the next day and my supervisor saying we're going to mobilize 10,000 people in the next 24 hours for a vigil at the Capitol. And we did. It was mostly through phones, because it was 12 years ago. It was mostly about getting on phones and calling and calling and calling, and we did. There was more than 10,000 people there. And Ted Kennedy, always a champion, spoke very passionately. That kind of became the thing that compelled me to keep doing this kind of work.
MW: Had you been to D.C. before the Human Rights Campaign internship?
MENESES-SHEETS: I came junior year for a community-service trip. I was talking with an adviser of mine that I was really close with who really encouraged me. I remember saying to him, "I can't imagine living here every day and walking by these buildings, ever having them just be humdrum. What an incredible place." When I moved to D.C. and lived on Capitol Hill, I tried to always remind myself of that feeling – walking by Union Station and all those buildings – that I don't want to become one of those people that just ignored what was around you. D.C. was sort of a magical place for me. It was also the first big pride that I ever went to. I went to [LGBT pride events] when I was in college in Vermont, but they were very small. I happened to be in D.C. for a conference, a women's leadership conference, like sophomore year, and it happened to be during Capital Pride 1997. I went downtown and there were all these people. And PFLAG – and I can't ever see a PFLAG contingent and not get a little teary. Especially since at the time my folks were definitely struggling with me coming out. To see this giant group of supportive parents was pretty powerful.
MW: Did you tell your parents, or did they just figure it out?
MENESES-SHEETS: It was a little bit of both. When I started doing the LGBT organization, my mom asked me – we were sitting at dinner in my tiny hometown – "Are you gay?" And I said, "We're not going to talk about this right now." And we didn't. It's funny, because I didn't say no, but in her mind she sort of heard no. I started dating somebody in sophomore year and so I just told her. I had always told her things before that were interesting and happening in my life, so I was just assuming that she would be supportive. And she really wasn't. It was awful. All my friends at school were [supportive], and my sister and my dad were, but my mom is definitely a matriarch and it was a loss in my life to not feel like I could talk to her. She's great now. It is a journey for your family as much as it is for you.
It was a long time, a good number of years, that my mom and I didn't talk that much, didn't have a good relationship. Eventually she realized that it was either get over it and work on rebuilding, or she wouldn't be a part of my life. I wasn't telling her anything anymore, and she wasn't really knowing me anymore. That was enough for her to feel like she was going to lose her child, to start to try in a way that she never had before. And then meeting some of the people I was dating and seeing that they are perfectly nice people, I think that helped. And visiting me. It wasn't really until I was in D.C. that she started coming around, seeing my friends, seeing that I had good friends and a good life. It just sort of clicked for her, and getting over the whole, "What will people think?" I was living a good life and I was a good person, and so why would they think anything?
MW: Was that gradual?
MORGAN MENESES-SHEETS: I created the moment. When I moved to D.C. and I had this life that I was proud of and happy about, and was seeing someone that I really cared about at the time, I just said to her, "We're either going to have these weird stilted conversations, where you don't really ask me questions and I don't really tell you anything, and it's really contrived, or we're going to start to talk and I want to be able to tell you about my life and tell you about people in my life." And she just got it. I don't know why at that moment, but she just got it.
MW: How did you become aware of the Equality Maryland job?
MENESES-SHEETS: Rae and I were both aware of Equality Maryland. When I was in D.C., I was working on the Hill on disability issues. Some people don't see the connection, but in mind it all makes sense. It's always been fighting for what's right. When I was in Montana I was doing [pro-]choice, but I was also on the board of the state LGBT group. Then I was working on disability issues on the Hill and in state legislatures. It seems disjointed for some people, but for me it all makes sense because it's always been about fighting the good fight.
When I met Rae, I was working on the Hill. We were spending all this time together and she was constantly having to travel to D.C., so we moved in together in Maryland. It made sense. It's more affordable, and she had more roots in Maryland than I had anywhere. We were making our home here and I was thinking about what I wanted to do next. We were both members of Equality Maryland and we had gone to Lobby Day. When we moved into our house [former Equality Maryland Executive Director] Dan Furmansky came over and we had a house party for Equality Maryland as our house warming. We were connected to the organization as members and donors, so I thought, "Wow, I would love to be able to do that, personally making a difference in a state that we're building our life in for our family. Wouldn't that be really amazing?"
I kind of kept my eye [on it], and when Dan left, I thought, hmm…. It ended coming open again at a time when the organization I was in was doing well and I had really good staff. I knew that if I did get the job and I left that they would be in a good position, which was definitely important for me. It felt like everything had come together, so I could consider leaving and here was this opening. I decided to throw my hat in the ring, and here we are.
For more information about Equality Maryland, call 410-685-6567 or visit equalitymaryland.org.