When Tammy Freeman, a member of the Capital Area Gay and Lesbian Chamber of Commerce (CAGLCC), and her partner started planning their wedding, she quickly discovered some unique challenges that same-sex couples face when getting hitched.
Stepping into unchartered territory was awkward. Shops assumed Freeman was marrying a man, which required "coming out" repeatedly – to mixed reactions. Through the wedding-planning process, she realized the gay community would need to adjust to the newly won rights.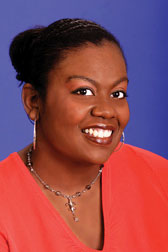 Tammy Freeman
(Photo by Courtesy Tammy Freeman)
Turning frustration into opportunity, and building on a desire to connect businesses with consumers, Freeman launched Pink Dot Concepts in March 2010. Pink Dot is a strategic event and marketing company that has focused on the wedding niche market with a focus on the LGBT community and small businesses.
Pink Dot's first major event was in June 2010. "Say I Do!" was a wedding expo where 30 vendors catered to 125 mostly same-sex couples at a one-day event at the Hotel Palomar in Dupont Circle.
"We received really positive feedback from the event," says Freeman. "It is, to date, the best-attended LGBT wedding expo in the area."
The success of this event gave way to another, geared toward a highly specialized market: wedding cakes. "With the cost of gas and the time it takes to drive from place to place, it only made sense to plan 'Let Them Eat Cake,"' says Freeman of last month's cake-focused event. Next up is the "Non-Conforming Bridal Fair," for the nontraditional bride or couple looking to mix things up, May 1 at D.C.'s Articulate Gallery.
"Some couples want a wedding that is completely different from any other, while some want a special touch to make the event memorable," says Freeman in anticipation of this upcoming business-to-consumer event.
Having celebrated a first anniversary, Pink Dot brings back the "Say I Do!" wedding expo on June 5 at the Palomar. For more information visit Pink Dot online at sayidoexpo.com.
Network, Network, Network
If the buzzword in real estate is "location," in business it's "network." In today's competitive market, how do we chose to work with one over the other? Usually it comes down to the individual with whom we choose to do business: the one we like, respect and trust. Once the relationship is established, you will likely want to work with the same banker, lawyer, electrician – even when they move companies. And as success is usually measured in numbers, having a large network of clients, referral sources, individuals and companies to refer and a long list of potentials pays off.
To the "schmoozer," working a room is second nature. The rest of us need coaching and practice, which CAGLCC provides at Speed Networking, an event aimed at making up to 15 new contacts in the course of two hours. In a relaxed environment, individuals learn the basics of networking and get started immediately on a one-on-one basis exchanging "elevator pitches." Every five minutes, the wheels turn and a new set of introductions are exchanged. By the end of the evening, each participant walks away having made 15 new impressions.
You've attended this event before? Come again! Seasoned networkers know that gaining new business is a process. After the initial introduction, there is a period of getting acquainted, followed by the courtship and, finally, closing the transaction. Those who expect to walk into a room and walk out with business are usually sorely disappointed and soon give up. But those who hone their networking skills see how building relationships pays off handsomely.
Join CAGLCC at the next Speed Networking event, May 24, from 6:30 to 8:30 p.m., at Cobalt, 1639 R St. NW. For more information, visit caglcc.org/events.