When we need to center ourselves or achieve a feeling of inner calm, we take a deep breath and slowly let it out.
Your home can do the same.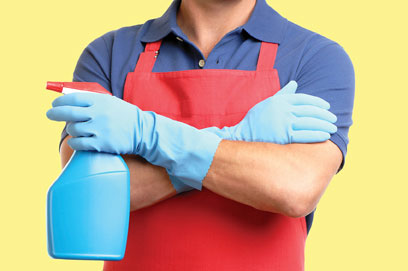 "Spring is the time of year that brings forth life," says Cathy Green of UpperCrust Maids, a Washington-area cleaning service that's entering the industry's busiest time of the year. "Your home has gone through the entire winter and, even if you're keeping things clean, things are starting to accumulate."
That makes a good, deep spring cleaning a time to "rejuvenate and start fresh."
Philip Doyle of MaidPro in Adams Morgan agrees.
"You've been closed up all winter and have dust and mold and mildew," he says. "Get all the buildup out: Do a deep clean of the whole place so you get rid of all this buildup of toxins in your house."
The idea of hiring a cleaning service may seem like a luxury, but for a project like a deep, top-to-bottom cleaning of a house or apartment it may be the way to finally get your home into a healthy and comfortable state. Green notes that while regular cleaning is something that requires some disposable income, many people find ways to budget the cost into their lives because work and obligations have cost them the ability to get their homes clean.
"Housecleaning is truly a professional service," she says. "If it were that simple, everyone would have a clean house."
Still, there are a number of tips to keep in mind when undertaking a spring cleaning on your own.
"Always work from one point in the room," says Doyle, who starts cleaning rooms from the right, working from top-to-bottom until he's back to the starting point. "People panic and then they miss things and jump around. This way, you've covered everything — high-to-low, then right-and-around."
Green stresses keeping things focused.
"Do not try to do it all at once, because then you fall apart," she says. Start with the kitchen, because it's a high-use area, then move on to the bathroom. "The secret of a clean house is a very clean kitchen and very clean bathroom — the rest of the house will flow."
For more information on MaidPro, visit maidpro.com or call 202-399-3090. For more information on UpperCrust Maids visit uppercrustmaids.com or call '301-322-7112'.