Michael Bobbitt was surprised when he learned the No Rules Theatre Company wanted to honor him with its Distinguished Artist In Their Youth award — amusingly dubbed a DAINTY.
"People still think I'm in my youth?" the 38-year-old jokes. "I was really touched. I'm really glad people think I'm young."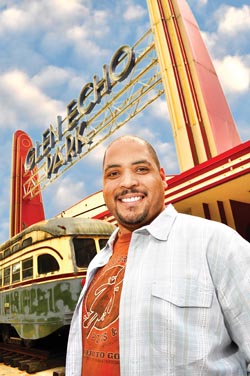 Michael Bobbitt
(Photo by Todd Franson)
Bobbitt could be forgiven for believing that he's less-than-youthful. As the artistic director of Adventure Theatre, Bobbitt's focus is on children — specifically, children's theater. All kidding aside, Bobbitt is humbled by the award. "It's really nice to be recognized for the hard work that I've been doing," he says.
Since Bobbitt became Adventure's artistic director in 2007, the Montgomery County company, founded in 1951, has grown about two-and-a-half times in size: from a budget of $675,000 to $1.5 million this year, and from attracting 18,000 annual patrons to 50,000 last year. It employs eight full-time staff people and one part-time person.
Bobbitt has also expanded the theater's outreach to various communities, including to gay and adopted families. The outreach is partly influenced by the way Bobbit's family is comprised — he lives with his male partner and their adopted 9-year-old Vietnamese son just a few blocks from Adventure in Glen Echo, Md.
Through his work at Adventure, Bobbitt aims to improve the quality of children's theater. "One of my goals is to give the genre great writers," he says. Last year, Adventure presented a nationally recognized production of Harry Connick Jr.'s The Happy Elf. In future seasons the company will offer an adaptation of the Tom Hanks movie Big and a new farce by acclaimed playwright Ken Ludwig.
"If I can bang [children] over the head with a love of theater," says Bobbit, "then hopefully they'll grow up to be new theater artists, or at the very least theater supporters."
Bobbitt himself grew up loving theater. "Way back in elementary school I was drawn to the arts," says the D.C. native. "I didn't like going to gym, I didn't like outdoor recess. I think my first foray into the arts was in third grade, when I started playing the trumpet and joined the choir." Bobbitt played trumpet at Gonzaga College High School and even focused on music in college, before theater beckoned. After studying theater and dance in New York but struggling to make it on Broadway, he returned to D.C. temporarily and ended up staying for good.
Though his focus is on theater management, over the years Bobbitt has also dabbled in creating musical theater productions with collaborator John L. Cornelius. Among these are two African-American-themed children's theater adaptations, The Bingo Long Traveling All-Stars & Motor Kings and Mirandy and Brother Wind, both produced at Adventure.
Several years ago, Bobbitt and Cornelius got the idea to make a musical revue of the work of Stephen Schwartz, known chiefly for his Broadway hits Godspell, Pippin and most recently Wicked. Their effort, first presented at the Kennedy Center's Page to Stage Festival, met with Schwartz's satisfaction. He liked how they re-envisioned his songs, such as turning Wicked's hit "Defying Gravity" into something of a gospel number.
Alexandria's MetroStage offered the first professional production of the revue in 2008. Now, No Rules has worked with Bobbitt to offer a new version, one tweaked "to make sure that the arrangements aren't too complicated," says Bobbitt. The goal is to get it published so school theater departments and small theater companies around the country can mount it.
No Rules, which got its start in 2009 with an outstanding production of Hedwig and the Angry Inch at the Warehouse space and just won a Helen Hayes Award for Outstanding Emerging Theater Company, is presenting performances of The Stephen Schwartz Project as its annual fundraiser all this weekend, culminating with a DAINTY presentation benefit Monday, May 2. Co-artistic director Anne Kohn says the company, which functions in both Washington and Winston-Salem, N.C., where its founders went to the North Carolina School of the Arts, aims "to produce great work that reaches a divers audience of people." For his part, Bobbitt says, "I've seen three things [No Rules has] done, and I'm blown away by them. The work is polished and professional."
In addition to his goals of improving the quality and reach of children's theater, Bobbitt also aims to make the broader D.C. theater community more collegial. Last year, he was elected to a three-year term as president of the League of Washington Theatres, which serves 42 area nonprofit professional theater groups.
"I have this strong need to give back, it's overwhelming," he says. "There's a really great solid generation of young theater leaders in the D.C. area, and I'm hoping we can form a bond and a friendship and be really supportive of each other."
Michael Bobbitt will receive the 2011 DAINTY Award at a benefit performance of The Stephen Schwartz Project Monday, May 2 at the Edmund Burke School, 4101 Connecticut Ave. NW. Tickets are $75. Visit norulestheatre.org.