"Hello my name is fag."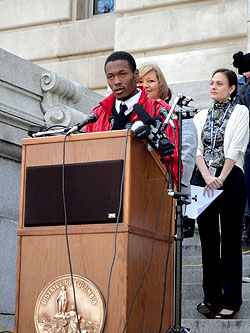 D'Angelo Morrison
(Photo by Yusef Najafi)
"Or at least that's the name I was called in school," said D'Angelo Morrison, an intern at the Sexual Minority Youth Assistance League (SMYAL), during an anti-bullying rally held in front of the John A. Wilson Building midday Thursday, April 21, that attracted about 50 people.
"[In school] my real name wasn't followed by 'the jock,' 'the class clown' or 'smart kid.' I was instead referred to as 'the fag,' 'the gay guy,' 'the homo,' 'the punk."'
Morrison talked about his school hardships at the rally just before Jeffrey Richardson, director of the Mayor's Office of GLBT Affairs, declared April 21 "Bully Free DC Day" with a proclamation.
"It is an honor to be here with you today on behalf of the mayor of the District of Columbia, Vincent Gray, to show our commitment for fostering an environment where all children and youth are able to learn and develop in schools and communities that are safe and supportive," he said.
"Every child deserves a learning environment where every day is bully-free day. And we stand firm in our support of all efforts to combat bullying in the District of Columbia."
According to Richardson, 20 organizations have come together to form the D.C. Safe Schools Coalition in combating bullying issues in schools.
Councilmembers attending the event included Harry Thomas (D-Ward 5) and Yvette M. Alexander (D-Ward 7), who called bullying in D.C. "appalling."
"We have to realize that teasing and making fun of other young people is not the right thing to do," she said. "It can be very harmful. Our young people have feelings and they deserve to be respected."