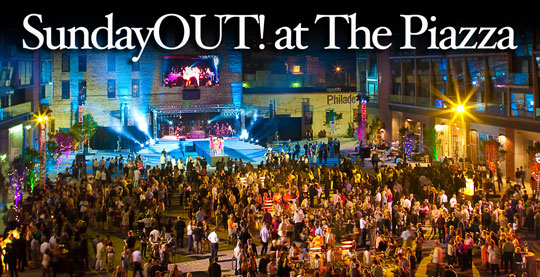 For the end of the 2011 Equality Forum, a weeklong series of educational programming designed to advance national and international LGBT civil rights, Philadelphia will play host to the region's largest gay street festival.
SundayOUT! at the Piazza will feature more than 150 artisans, food vendors and community organizations. Among the planned live entertainment will be recording artists KID AKIMBO and Jonathan Bascope.
The event will be held on Sunday, May 1, from 12 noon to 7 p.m. at Philadelphia's chic Italian-inspired open-air plaza in Northern Liberties (North 2nd Street & Germantown Avenue). Admission is $10 for adults and $5 for students with proper ID; ticket purchasers will automatically be entered into a drawing for a chance to will two round-trip tickets to anywhere Southwest Airlines flies.
Additional Equality Forum-affiliated parties are planned starting Thursday, April 28. A complete schedule is available here. Gay travelers can find useful information on planning a visit to Philadelphia including hotel specials online at www.visitphilly.com/gay-friendly-philadelphia.