Once upon a time, at a jam-packed gay bar known as the Frat House, there was a rush on Rush. "We actually stopped selling liquor [for several minutes] because so many people were wanting to buy poppers across the bar," says Perry Morehouse. This was eons ago, the last night it was legal for bars to sell the head-swirling amyl nitrate. "For the last 15 minutes before midnight, all we did was sell poppers. It was a madhouse," chuckles Morehouse. "People wanted to buy as many bottles as they could."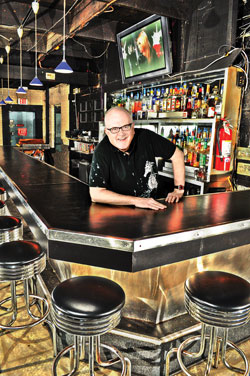 Perry Morehouse
(Photo by Todd Franson)
It's one of several moments Morehouse vividly recalls during his 32 years of working at the legendary Dupont Circle venue, which, for more than a decade, has gone by the name Omega. Morehouse remembers visits from the likes of the Village People, Erasure's Andy Bell and gossip queen Michael Musto. When it opened in 1976 in a former carriage house, it was called The Fraternity House and featured a restaurant and a dance floor. It even served a stint as a piano bar in the same upstairs area that eventually became a backroom "showing adult male films." The space is now brightly lit and houses a pool table.
How times change.
The venue will celebrate 35 years of business with a champagne and cake party on Wednesday, April 20, and a performance by local porn couple Spencer Reed and Phillip Aubrey.
Morehouse, the bar's general manager, chalks up its longevity to the a willingness to change with the times, as well as a lack of attitude or pretension. "We kind of just go with the flow," says Morehouse. "And we have probably the most diverse crowd in Washington."
When Glen Thompson opened the Frat House, the only other gay bar in Dupont was Mr. P's, which had opened a few months earlier. (Thompson would eventually open Badlands, now known as Apex, down the alley, and P Street Station, now under different ownership as the Fireplace, across the street.) The rest of the city's gay bars were secluded in Southeast's Warehouse District, where Nationals Park now sits. "[Thompson] wanted to move gay life uptown," says Morehouse, who finds the changed demographics in the gay community fascinating.
"When we started, everybody lived around [the west] side of Dupont Circle, or Georgetown," he notes. "Now everybody's moved to the other side of the circle." They've actually dispersed beyond the circle, and the city, too. "Hardly anybody lived in Virginia, hardly anybody lived in Maryland — not like they do now," recalls the 61-year-old, a former Adams Morgan resident who has made his home in Virginia for 23 years.
"I can't say that I've had customers that have been with me from the beginning, but I've had customers that have been there 20 years and keep coming back," says Morehouse. "Because of AIDS, a lot of those older customers are not around anymore." The disease also took a toll on a fair number of Frat House bartenders and drag queens.
These days, Omega has a drag show on Monday nights, but even the bar's most famous drag doyenne, Gladys Kravitz, only appears these days for special occasions. Instead, Kravitz's alter-ego Howard Hicks, who tends bar at Omega, usually just hosts Thursday night karaoke as himself.
The bar remains busy on weekends, and especially on Wednesday nights, when Omega offers free drinks to men who shuck their shirts from 10 to 11 p.m. While a lot of patrons these days come from the suburbs and from out of town, Morehouse notes, "We're still holding our own, we still have new customers come in all the time. It's amazing how many people over on 17th Street come back and go, 'We haven't been here in a while, but we're coming back."'
Morehouse had knee-replacement surgery in January and now only works three days a week. He expects to stick around for a while. "It's just a nice place to work," he says. "It has a good atmosphere."
The 35th Anniversary Party, with champagne and cake and performances, is Wednesday, April 20, starting at 9 p.m., at Omega, 2122 P St. NW, in the rear alley. Call 202-223-4917 or visit omegadc.com.