D.C.'s hate-crime statistics are four-times greater than the national average, according to the local group Gays and Lesbians Opposing Violence (GLOV). In hopes of tackling that disparity – and other prickly points between the local LGBT community and law enforcement – GLOV joined with the mayor's office, the U.S. Attorney's Office for the District of Columbia (USAODC) and the Metropolitan Police Department (MPD), to present an April 14 community forum on hate crimes in D.C.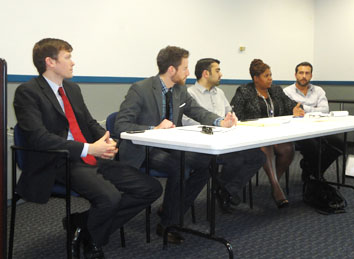 Panel on hate crimes in D.C.
(Photo by Yusef Najafi)
On the panel were GLOV Chair A.J. Singletary, GLOV Vice Chair Hassan Naveed, GLOV co-founder and spokesperson Chris Farris, Andrew Barnett of the Sexual Minority Youth Assistance League (SMYAL), and Wendy Polhaus, executive assistant U.S. attorney for external affairs at the USAODC.
MPD Police Chief Cathy Lanier also attended the event, joining about 20 other officers including Capt. Edward Delgado, who heads MPD's Special Liaison Unit (SLU), which includes the Gay and Lesbian Liaison Unit (GLLU).
Thursday's discussion addressed the underreporting of hate crimes, the importance of victim impact statements, MPD's growing relationship with the LGBT community, as well as the difficulty of proving bias.
"We have to show that it's … hatred or prejudice that's causing the defendant to cause that crime. … That motivation is often very difficult to prove," Polhaus said. "We generally go where the evidence kind of takes us. … I have to say that even if we are unable to charge [for a hate crime] in trial, it still gets argued in sentencing."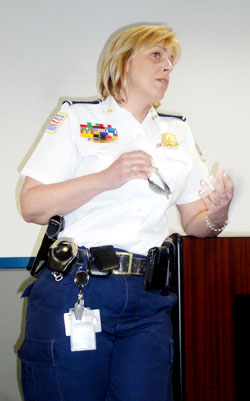 Chief Lanier
(Photo by Yusef Najafi)
Turning to underreporting, Lanier said that MPD has 135 SLU-trained officers, 50 of whom are trained in GLLU services. Those GLLU affiliates, who conduct GLLU services from all seven police districts, are now required in every instance to check off on police reports a box asking whether or not an incident is a hate crime.
"Because of those two things we're seeing better reporting," Lanier said. "And we're seeing reporting in areas of the city where we know it's been going on for years. We're going to see reporting improve with time. It's our ultimate goal."
As MPD chief, Lanier has attempted to increase the scope of the GLLU by training more officers in GLLU protocols. She has, however, also decreased the core staff of the unit. It's a strategy that has left her open to far more criticism than praise from the LGBT community.
Lanier's appearance at the event also allowed Jason Terry, an organizing committee member of the D.C. Trans Coalition, the opportunity to ask the chief for an update on a case involving Chloe Alexander Moore, a D.C. transgender woman who alleges to have been physically assaulted late last year by Officer Raphael Radon.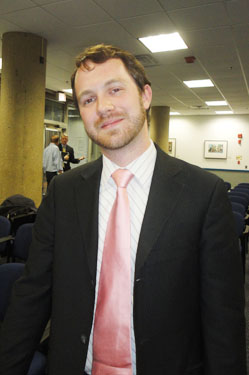 Jason Terry
(Photo by Yusef Najafi)
"The entire case, all the facts we have on that case, all the statements, it's been sent over to the United States Attorney's Office for review for any criminal prosecution," Lanier responded. "That has come back with a 'declination to prosecute' on either side, because as you know it was kind of a crisscross of accusations. Now it's in our internal affairs for an administrative investigation. That's the way these things normally happen, but there has been a 'declination' from the USAO. That's the latest. "
Talking to Metro Weekly after the event, Terry said he was glad that MPD has launched an investigation, but disappointed that the officer has not been prosecuted.
"I'm also curious to learn what the result of the internal affairs investigation is," Terry said. "We usually don't learn these things because they're personnel matters, but I feel like when you're a dealing with a community like the trans community, which feels consistently victimized by police, that it's really important when they're physically, violently victimized by police and it's a case that makes the papers, there should be some sort of conclusion to that story.
"Chief Lanier and I will do this song and dance every time we see each other and talk to each other because I want to know how that investigation goes and what happens."
For more information about GLOV, a program of The Center, the area's LGBT community center, visit glovdc.org.