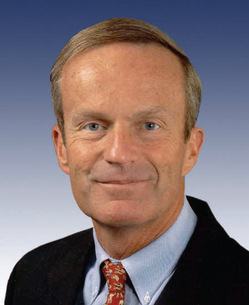 Rep. Todd Akin (R-Mo.) is jumping into an already crowded Republican primary to take on Sen. Claire McCaskill (D-Mo.) in 2012. In a statement released today, Akin's office announced:
MISSOURI – Today Congressman Todd Akin, a known and tested conservative congressman from Missouri's Second Congressional District, announced that he will run for the United States Senate to replace Claire McCaskill in 2012. Congressman Akin made his announcement in St. Louis today, and will be traveling across Missouri this week to take questions regarding his candidacy.
At Politico, David Catanese noted:
Not only will Akin have to face former State Treasurer Sarah Steelman — who while flubbed an early fundraising opportunity has also shown a penchant to throw a primary punch — it looks increasingly likely he could face a self-funder from his own backyard [– wealthy businessman Jon Brunner –] who lacks the baggage of a voting record.
Akin's announcement comes less than a week after successfully offering an anti-LGBT amendment to the National Defense Authorization Act. The amendment, which effectively bans same-sex marriages from being performed at military bases or by military employees, was a response to a Navy memorandum released earlier in the week, which detailed legal guidance that such weddings — where legal under state law — could be performed on military property.
The amendment, approved on a 38-23 vote in the House Armed Services Committee, if approved by both chambers of Congress and signed into law, would expand upon the current restrictions of the Defense of Marriage Act. Akin's amendment prohibits weddings from taking place on military installations — such as bases — or other Department of Defense property if they don't comply with DOMA. It also prohibits chaplains or other DOD employees from performing non-DOMA-compliant marriages while "acting in an official capacity.
[Photo: Akin]