At first glance, the upcoming OutWrite "Pioneers" event at The Center, the area's LGBT community center, is already substantial, celebrating re-releases of two powerful books: From the Closet to the Courts by Ruth Simpson, originally published in 1976, and Unbought and Unbossed by Shirley Chisholm, originally published in 1970.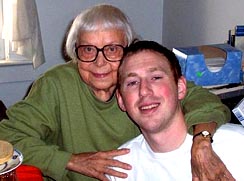 Ruth and Scott
Adding to heft of this pioneering prose, however, is the connection that the editor of these re-releases has to one of the authors. Actually, it's really editor Scott Westbrook Simpson's relationship to Ruth Simpson that got these two books to where they are today. Take one gay Washingtonian on the cusp of adulthood trying to find his way in the publishing world, add one estranged, activist, lesbian great aunt, and the rest is history.
"I heard stories of some gay aunt I had," the younger Simpson explains. "I found a copy of [From the Closet to the Courts], out of print. I was fascinated by her…. I found out she was still alive, living in Woodstock, N.Y., with her partner. She had been estranged from our family for over 40 years."
Meeting her nephew ended that estrangement, and the two began collaborating and decided to re-release her book. The bittersweet twist is that the elder Simpson died in 2008, but not till a few months after she and her nephew had completed their task with the re-release.
"She never stopped," says Simpson. "She was 82 when she died, president of the Woodstock Public Library board. She might be resting, but she'll never be resting in peace."
And as Simpson prepares for the reading, it seems a bit of his aunt will be there with him, the two having formed a solid bond before her death.
"I saw a lot of myself in her," he says. "We became family. You don't get to choose your family, but we both chose each other. '
OutWrite presents "Pioneers" on Thursday, May 19, at 7 p.m. at The Center, 1318 U St. NW. For more information, call 202-682-2245 or visit thedccenter.org.