The Green Bird features statues that talk, apples that sing and waters that dance.
Even more unbelievable, the play humorously explores philosophical notions about love, compassion and altruism.
Sounds pretty ridiculous, right?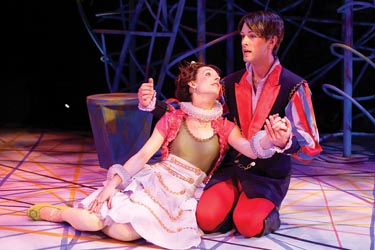 Green Bird
(Photo by Scott Suchman)
Well, it's not exactly magic, but what Constellation Theatre Company is pulling off at 14th Street's Source Theatre right now is pretty extraordinary. The fledgling nonprofit theater company transforms the small theater space, reconfigured with an almost empty stage in-the-round, into a delightful magical playground of no exact vintage. And yet, with philosophy as a prominent theme, mostly to add levity – I told you it's unbelievable – you never fully escape the real world, either.
The 18th century Italian playwright Carlo Gozzi mixed commedia dell'arte farce, melodrama and visual special effects to create a theatrical hybrid with The Green Bird. It focuses chiefly on things that philosophy and reason can't quite explain. The story, with English translation by Albert Bermel and Ted Emery – also the source for a 2000 Broadway production directed by a certain Julie Taymor – centers on twin orphans Renzo (Ashley Ivey) and Barbarina (Emma Crane Jaster). The twins were reared by unhappy commoners: a greedy, grotesque sausage-maker, Truffaldino (played with abandon by Matthew Wilson); and his compassionate, put-upon wife, Smeraldina (Katie Atkinson).
But they eventually learn they are actually of noble birth, born to the king, Tartaglia (the dazzling John-Michael MacDonald), and his queen, Ninetta (Katy Carkuff). The king's mother, the ruthless old queen Tartagliona (Nanna Ingvarsson), had her sycophant poet Brighella (Graham Pilato) throw the twins in the river after Ninetta gave birth to them. Then she had Ninetta, whom she despises, locked away in an underground prison. She told everyone the three had died. She'd rather that fate than have them carry on her lineage.
The old queen gets her comeuppance in the end, of course – in no small part thanks to the titular, magical Green Bird (Rex Daugherty), a former, and future, king himself. But before her day of reckoning, Ingvarsson gets to ham it up, playing Tartagliona as a sort of sexpot Cruella de Vil, or an evil Liza Minnelli: She's sultry, strong-willed, solipsistic, utterly show-stopping. It's the kind of performance gay men in particular relish and would normally pay two or three times Constellation's ticket prices to see.
Before the twins become the royals they were born to be, they set out on a journey to find themselves, and to play out some rather amusing theories of philosophy they've studied – self-love versus selflessness, above all. Director Allison Arkell Stockman, who's also Constellation's founding artistic director, tapped scenic and lighting designer A.J. Guban to make the evocative most out of subtle lighting and a sparse stage. The stage's concrete floor is striped with colored lines leading to a modern-looking metal contraption that doubles as the backdrop for much of the action as well as a wizard's den, housing live multi-instrumentalist Tom Teasley. Teasley's futuristic score, based in Kraftwerk-like electronica but also incorporating exotic, acoustic instrumentation, deserves recognition along the lines of his work last year for Constellation's The Ramayana, which earned him his second Helen Hayes Award.
THE GREEN BIRD




and a half
To June 4
Source Theatre
$25 to $30
202-204-7741
constellationtheatre.org
Constellation's production of The Green Bird takes flight not just because of the nimbleness of its surprisingly high-caliber acting ensemble or of its masterful stage and sound designers. Costume designer Kendra Rai, who's signed on as an associate artist with Constellation next season, has previously worked with the Washington National Opera and several Shakespeare companies. She brings a sense of exaggerated, but not excessive, flair to the many costumes used in The Green Bird – helping the whole production soar even higher.
Ultimately, the play, with a run time of about two-and-a-half hours, lasts a bit longer than it probably should. But you never lose interest, and all the while you appreciate the wonderful and weird way it juggles the fantastic and fantastical with the real and philosophical.
It's not quite magic, in other words, but it certainly has a similar effect.