When The Academy of Washington announced that they were presenting Frank Kameny with a check for $3,500, during the Academy's 50th anniversary celebration on Saturday, May 7, at Almas Temple, he was speechless.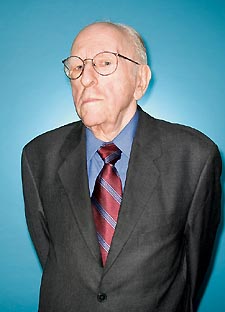 Kameny
"I'm rarely at a loss for words, but I certainly was the other night," Kameny says. "I was completely dumfounded and more grateful than I can say. I think they expected me to say something. I was so startled, I didn't."
Carl Rizzi, the Academy president who performs in drag as Mame Dennis, says he got the idea to surprise Kameny with a donation after he hearing the gay rights pioneer was struggling financially near the end of 2010.
"He's helped a lot of our people who have had problems," Rizzi says. "I just know all the good he does and I followed his career through the years."
Rizzi first met Kameny – fired in 1957 from his government job with the Army Map Service for being gay – more than 30 years ago when Rizzi was working at the post office. At the time, someone sent a photo of Rizzi in drag to Rizzi's supervisor.
"I told the inspector, 'That's a terrible picture, if you want a nice picture for your file I'll bring you a nice picture,"' Rizzi recalls with a laugh. "I don't know what made me say that."
He was referred by a friend to Kameny for advice.
"Donn Culver was the owner of the Lost and Found [bar] and he got me under Frank. Frank told me what to say and what not to say, and he said if it comes to the point we'll take them to court.
"It didn't come to that because at the time my boss told the chief postal inspector that they were not to touch me, that I was a good employee and he did not want them to do anything."
Kameny says he will use the donation to take care of "pressing bills and concerns," which includes renewing his D.C. auto registration.
"We're all very good at some things," Kameny says. "I wouldn't be receiving an award from them if I'm not. But we're not all good at everything. A financial wizard I am not. So my personal finances have been in something of a mess for a number of years and this helps out enormously in terms of some imminent crises of the moment.
"Way back in the 1930s, the one course in high school that I almost failed was economics. That was the only one. That characterizes the way I function on these things."
Kameny describes the last decade as a "financial nightmare."
"What I got the other night will be enormously helpful in the immediate sense. Some of the underlying problems for the moment will continue, but I have hoped they will be resolved."
Rizzi says performers at the Academy agreed to do one song each show night since January for Kameny, without letting the audience know. The first night, the Academy raised $800.
"A lot of these people in the Academy didn't even know who Frank was," says Rizzi. "They just took my word that he deserved it and the money started pouring in.
"It just grew and grew and grew and I couldn't believe it. I'm so proud of everybody and the group. Mark Meinke who picked up Frank and gave him a ride home, Frank said to him, 'These people are so generous and they don't even know me.' Mark said, 'They don't have to know you. They know what you've done and what you stand for and they just wanted to do something nice for you."'
For more information about the Academy, visit thewashingtonacademy.com.