In no small way being taunted growing up in Sacramento, Calif., inspired Gregory Cendana to activism.
"Even though I wasn't out in elementary and middle school, I was bullied. People took my lunch money," Cendana says. "I took the tears that I cried and really turned it around, used it as a motivating factor."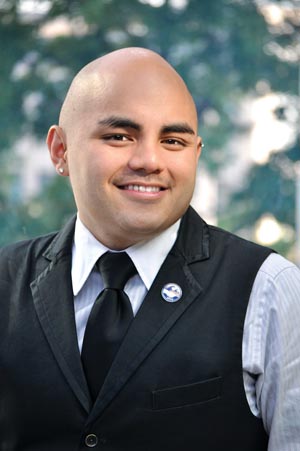 Gregory Cendana
(Photo by Todd Franson)
Only three years out of college, the 24-year-old Cendana, of Filipino descent, has already broken barriers and proved his mettle as a leader. He was the first openly gay and first Asian-American president of the United States Student Association (USSA), the nation's oldest and largest national student organization. Currently, he's the first openly gay and youngest-ever executive director of the Asian Pacific American Labor Alliance, an affinity group with the AFL-CIO.
Increasingly, Cendana has been exploring how to directly incorporate queer advocacy into his work, such as partnering with the AFL-CIO's Pride At Work group. He's also started his own firm, Can't Stop Won't Stop Consulting, which works with various nonprofit groups to help them find ways to provide leadership opportunities for youth of color and those with an LGBT bent. He also serves on the board of the LGBT social-justice entity, the National Youth Advocacy Coalition, with which he has the sad but important responsibility of shutting down this month; and on the board of the local Asian/Pacific Islander Queers United for Action (AQUA).
"I see it as not only an opportunity, but a responsibility," he says, "to continue to show my peers and show other youth, especially Asian American/Pacific Islander youth, that you can be openly gay … and do well despite any struggles that you've had and despite any doubt or resistance."
Cendana is now being honored for his still-burgeoning activism with a Metro Weekly Next Generation Award.
"I feel really humbled by the award," Cendana says. "I know that there are a lot of other young people doing great work in the Washington, D.C., community. To be one of the folks selected means a lot. [It] will continue to push me to do even more."
Cendana has been something of a go-getter ever since his early days of being bullied. In high school, he was active in student government, the service organization Key Club, and the Filipino association. He even dabbled in the arts, performing in theater and serving one year as captain of the school's dance team. At various points, he wanted to become a doctor, a teacher and a professional dancer. He started his college career at the University of California, Los Angeles, as a communications major.
After interning at a local radio station, Cendana was intent on becoming an on-air personality. But "that changed really fast," all courtesy of a grassroots-organizing training he attended, put on by USSA. He got bitten by the organizing and advocacy bug. He eventually ran and won a two-year term as a national officer for USSA, which is how he ended up in D.C.
Cendana says he came out as gay to almost everyone by the time he was a junior in college. Cendana says his parents are still struggling with coming to terms.
"The fact that their son is openly gay and has that aspect or identity at the center of his work is something that they're still working through," he says. "One thing I can say, despite what their personal feelings are, and despite the Catholic upbringing, they've been really supportive of me personally. I know that there are others who have had worse relationships with their parents once they came out. I feel very fortunate."
Cendana is very close to his sister Jessica, who's one year younger and lives in D.C. as well. She was among those who nominated Cendana for the Next Generation Award. "Greg has always been someone that I can look up to and who has supported me in my own development. … He was there with me every step of the way," she wrote in her nominating form. "Greg is truly a community builder, inspirer and ball of energy."
With his many responsibilities, Cendana has had to become more disciplined about finding downtime and letting off steam: "I've grown a lot better at really pushing myself to take days off, to take mental breaks, even if it's as simple as leaving the office to go take a walk."
Cendana has also gotten back into dancing, creating the social justice-inspired hip-hop dance team SOULcial Justice, where he serves as a co-captain and co-choreographer. The group will have its first performance next month.
"Although it's another commitment, the dance team has been very therapeutic," he says. "It's been a good way to take myself away from the day-to-day of my job."
Cendana tries to live his life by a certain Dr. Seuss quote: "Be who you are and say what you feel, because those who mind don't matter, and those who matter don't mind."
"One of the most powerful ways that we're going to begin to change the minds and the hearts of people and society is if more people come out, [making] it a more personal issue for people," he says. "I really try to hold [the Dr. Seuss quote] close. It's important for me to be true to myself and to really say what I feel, because I feel like I represent a lot of communities … I want to make sure that our voices and our communities are heard."