A new supporter for marriage equality and proponent of the repeal of "Don't Ask, Don't Tell" has won election to the U.S. Congress with tonight's upset victory that has been called for Democrat Kathy Hochul against Republican Jane Corwin in New York's 26th District. With 91 percent of precincts reporting, Hochul was winning the race 48 percent to 42 percent, with Tea Party candidate Jack Davis garnering 9 percent of the vote.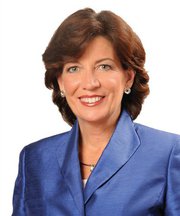 The special election, the result of former Rep. Chris Lee (R-N.Y.)'s resignation earlier this year, focused in recent days on Rep. Paul Ryan (R-Wisc.)'s Medicare plan and the impact of the self-funded Davis — but that didn't stop the National Organization for Marriage from getting involved in the race. NOM filed an independent expenditure report with the Federal Election Commission, announcing that it paid $5778.24 to ccAdvertising for "Voter Calls" made in support of Corwin on Monday, May 23.
On April 20, The Batavian's Howard Owens posted the results of at least portions of candidate questionnaires in the race, including a question about marriage and the military.
Hochul's response:
Q: What is your position on marriage? Should the federal government involve itself on issues of who can marry whom? Should the federal government provide the same benefits to heterosexual couples as well as gay couples? Finally, should gay men and lesbians be allowed to serve openly in the U.S. military?
A: I don't think the federal government should involve itself on issues of who can marry whom, that needs to be determined by the states. I believe everyone should be afforded equal rights under federal law. I do support the civil institution of marriage for gay couples, with absolutely no requirements placed on religious institutions. Gay men and women, who want to fight to defend our freedom, should be allowed to serve openly in the U.S. military.
Corwin, on the other hand, stated, "I believe that marriage should be defined as the union between one man and one woman." As to "Don't Ask, Don't Tell" repeal, she appears to have been unclear as to the specifics surrounding DADT repeal:
It's important to look at the military's implementation plan for allowing gay men and women to openly serve in the military, especially since we are a nation at war. Last year, Democrats made a political decision to decline to wait for the military's report on repealing Don't Ask Don't Tell. It's important for leaders in the military – those who would actually be the ones implementing a repeal of Don't Ask Don't Tell – to testify before Congress about how they would implement a repeal of the law to ensure that military readiness during a time of war is not affected.
Although the specifics of the call have not been reported, the company hired by NOM, ccAdvertising, has done anti-marriage equality polling in the past — which it makes available on its website — for a "Donor Aquisition Survey" for "Concerned Oregonians."
Among the questions asked in the Oregon survey were if "homosexual relationships" should result in "equal rights and benefits" for those couples. The call went on to state that legislative efforts aimed at allowing same-sex marriages "undermined traditional marriage." Moreover, ccAdvertising has been associated socially conservative robocalls in past election cycles, including the 2008 general election general election in Virginia and the 2006 "Common Sense" ads that ran in several states across the country.
[Photo: Hochul]